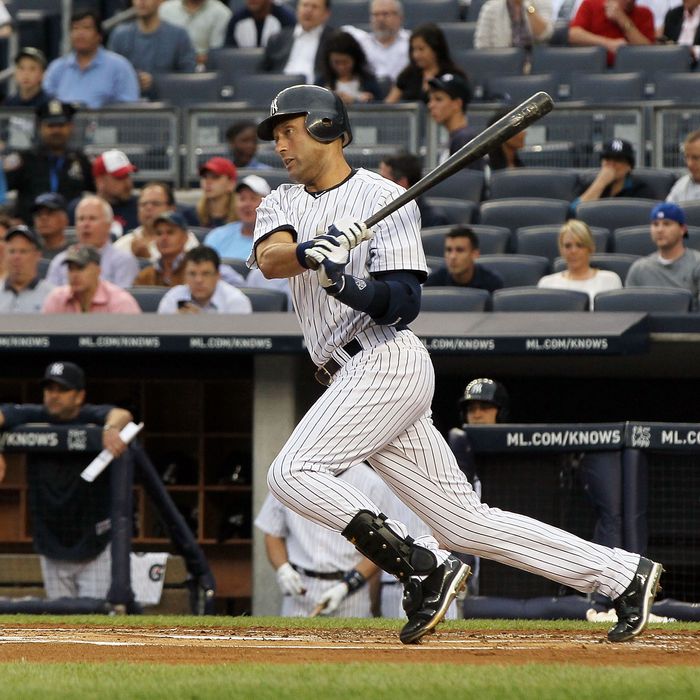 Photo: Jim McIsaac/2011 Getty Images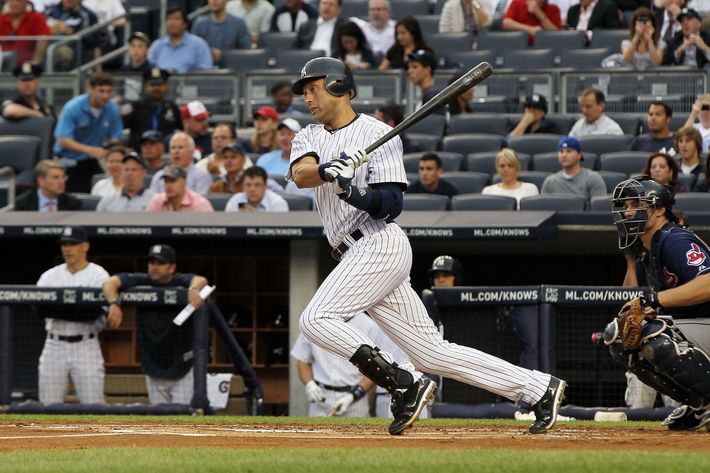 Once a week until Derek Jeter gets his 3,000th hit, we'll take a quick and dirty look at which game we anticipate he'll get it in, based on his 2011 numbers to that point. Obviously, buy tickets (or fly to some random city) at your own risk, especially since a lot can change in the coming weeks: Jeter could get hotter or colder, games could be rained out, he could get more frequent days off, or be dropped in the batting order, or get hurt (you know, again), or whatever. But just for fun …
• Jeter had 68 hits through the Yankees' first 64 games until he went on the disabled list yesterday, or 1.063 hits per team game.
• Jeter has 2,994 career hits and needs six more to get to 3,000.
• At this rate, it'll take six team games to get there, once he returns to the lineup.
• And so at this rate, assuming for a moment he returns on June 29 (the first day he's eligible), he'll get to 3,000 on July 4, in Cleveland. Of course, we're making a couple of assumptions here, beginning with the date on which he'll return to the lineup. But since his calf injury doesn't appear to be too serious — before the Yankees placed him on the fifteen-day DL yesterday, Joe Girardi said he'd need at least seven days to recover — we'll make that assumption for now.
Also unclear is whether he'd play every day immediately upon his return, or whether the Yankees would ease him back into the lineup. We've been using Jeter's hits-per-team-games rate in these projections, since it factors in his days off, but it stands to reason that the Yankees might give him the day off more frequently when he returns. (Using his hits-per-game-played rate, by the way, yields the same projected date as his hits-per-team-game rate this week.) But for purposes of this projection, at least, we'll assume he'll play every day when he returns. God knows he'll try to talk Joe Girardi into letting him do so.
If you're curious, the Yankees have home games on June 29 and June 30, then three games at Citi Field and three in Cleveland before returning to Yankee Stadium on July 7 for four games. So giving Jeter a few additional days to rest — either before taking him off the DL, or once he returns to the lineup — could help allow him to reach the milestone at home.
By the way, in case he does get his 3,000th hit on July 4, allow us to summarize the next day's tabloid columns for you in advance: George Steinbrenner's birthday. Great Yankee moments. Dave Righetti's no-hitter. "Luckiest Man" speech. Derek Jeter. America.
Previous projections:
6/8: June 19, vs. the Cubs
6/1: June 18, vs. the Cubs
5/25: June 20, vs. the Reds
5/18: June 24, vs. the Rockies
5/11: June 17, vs. the Cubs
5/4: June 28, vs. the Brewers