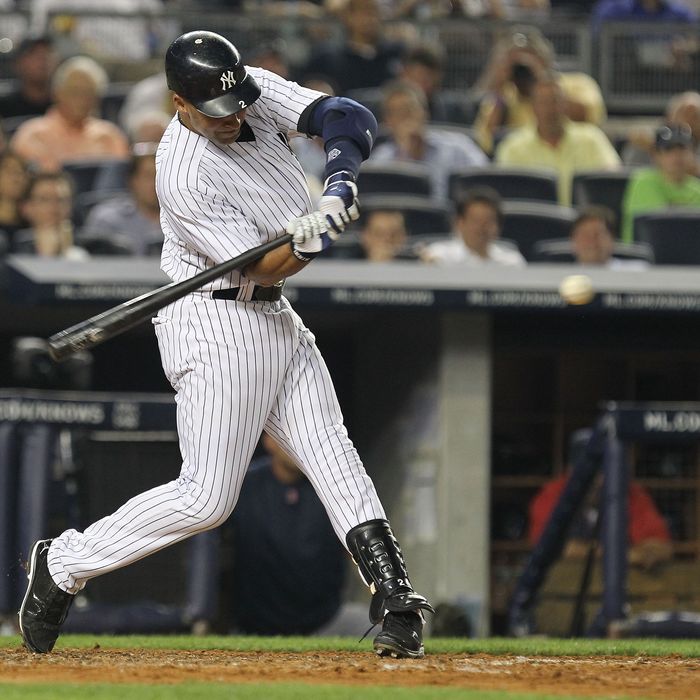 Photo: Al Bello/2011 Getty Images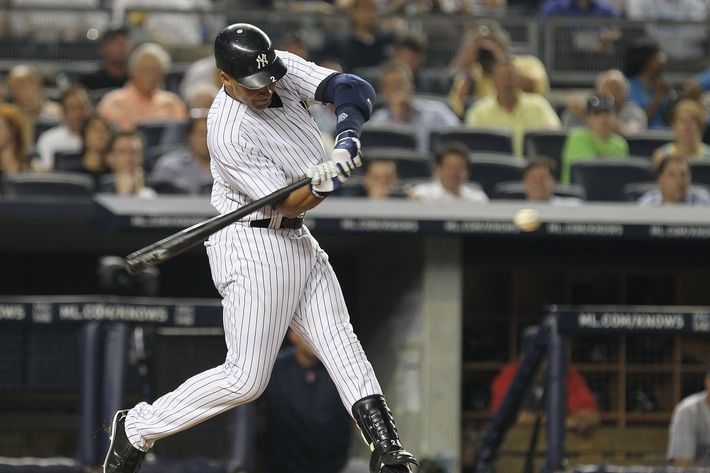 Once a week until Derek Jeter gets his 3,000th hit, we'll take a quick and dirty look at which game we anticipate he'll get it in, based on his 2011 numbers to that point. Obviously, buy tickets (or fly to some random city) at your own risk, especially since a lot can change in the coming weeks: Jeter could get hotter or colder, games could be rained out, he could get more frequent days off, or be dropped in the batting order, or get hurt, or whatever. But just for fun …
• Jeter has 62 hits through the Yankees' first 58 games this year, or 1.069 hits per team game.
• Jeter has 2,988 career hits and needs twelve more to get to 3,000.
• At this rate, it'll take twelve team games to get there.
• And so at this rate, he'll get to 3,000 on June 19 at Wrigley Field, i.e., in a nationally televised game on Father's Day. We're down to the last dozen hits, so a few things to keep in mind: We've been looking at his number of hits per team game, since that factors in days off, which would push back the projected date for No. 3,000. Joe Girardi has said he won't overuse Jeter so he can get No. 3,000 at home, but since Jeter's only gotten two full days off all year, it wouldn't be surprising for him to play every game on this homestand, even if it means a couple of games at DH. In games that he's actually played in, Jeter's averaging 1.107 hits per game; at that rate, he'd get to 3,000 a day earlier, on June 18 at Wrigley.
If we look at numbers since May 8 — a month ago today — he's averaging 1.185 hits per game, which would also get him to 3,000 on June 18. And even if we pick a more arbitrary end point — say, May 18, the beginning of a stretch in which he'd get two hits in four out of five games — his hits-per-game average only jumps to 1.222, which would get him to 3,000 on June 17, the first game after this homestand ends. Which is to say: With twelve hits to go and nine games left before the Yankees hit the road for a week, he's got a chance to reach the milestone at Yankee Stadium, but he'll need to pick up the pace a bit.
Previous projections:
6/1: June 18, vs. the Cubs
5/25: June 20, vs. the Reds
5/18: June 24, vs. the Rockies
5/11: June 17, vs. the Cubs
5/4: June 28, vs. the Brewers