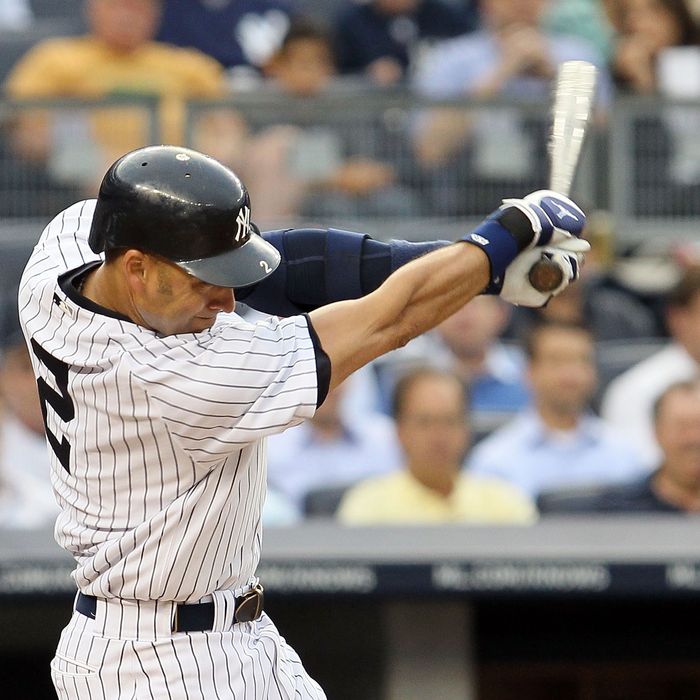 Photo: Jim McIsaac/2011 Jim McIsaac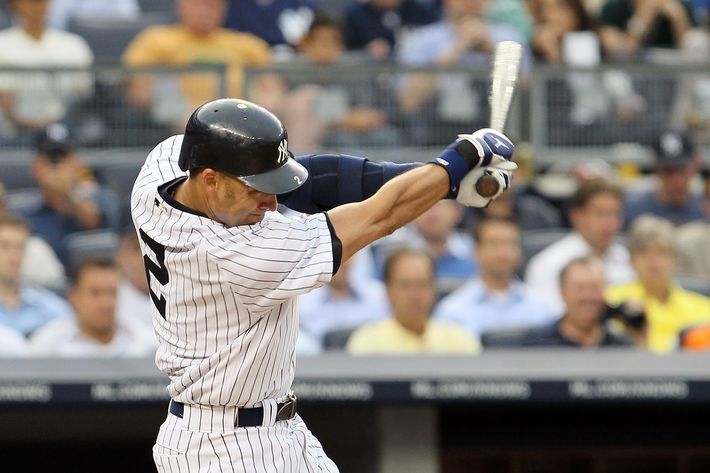 Once a week until Derek Jeter gets his 3,000th hit, we'll take a quick and dirty look at which game we anticipate he'll get it in, based on his 2011 numbers to that point. Obviously, buy tickets (or fly to some random city) at your own risk, especially since a lot can change in the coming weeks: Jeter could get hotter or colder, games could be rained out, he could get more frequent days off, or be dropped in the batting order, or get hurt (you know, again), or whatever. But just for fun …
Jeter, on the disabled list with a strained right calf, hasn't played in a game since we last tried to predict the date on which he'll get his 3,000th hit. And so last Wednesday, we projected that he'd reach the milestone on July 4 at Cleveland. But that projection required a couple assumptions: that he'd be back in the lineup on the first day he was eligible, and that he'd play every day after he returned.
Now, a little over a week since Jeter landed on the disabled list, we're getting an update on his progress: He worked out for the first time since his injury yesterday, doing some throwing at the Yankees' training complex in Tampa. The Yankees still hope that Jeter will be able to return on June 29 — the first day he'd be eligible to come off the DL — but, via MLB.com, they also can't guarantee that he'll be able to do so. Joe Girardi also said that Jeter would likely need to play in a rehab game or two before returning to the big-league lineup. (When he does return, by the way, he'll hit leadoff, according to Girardi.)
Girardi said that the Yankees want to avoid a situation in which Jeter comes off the DL, plays a game, then needs to take a couple more days off. So expect the Yankees to wait to take him off the disabled list until they're confident that he's ready to play multiple days in a row. That could very well happen on June 29 — though it's far from a sure thing. We'd also still expect the Yankees to rest him a bit more when he returns — though for our purposes, he'd still be getting a full game's worth of at-bats if he gets the occasional game as the designated hitter. And so we'll choose to be optimistic that Jeter will be healed up in time to return June 29, and we'll keep our Fourth of July projection the same as it was a week ago. Girardi said yesterday that Jeter is "going in the right direction." It's just a matter, now, of how quickly he can get to where he needs to be.
Previous projections:
6/15: July 4, vs. the Indians
6/8: June 19, vs. the Cubs
6/1: June 18, vs. the Cubs
5/25: June 20, vs. the Reds
5/18: June 24, vs. the Rockies
5/11: June 17, vs. the Cubs
5/4: June 28, vs. the Brewers
Yankees captain Derek Jeter works out, targets June 29 as return date from disabled list [NYDN]
Jeter will bat leadoff when he returns [MLB.com]