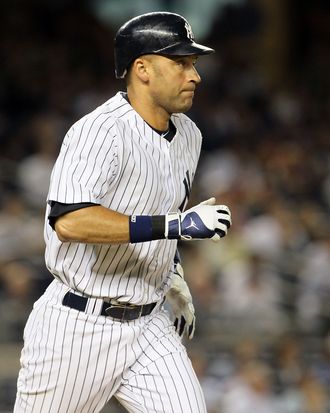 Photo: Jim McIsaac/2011 Getty Images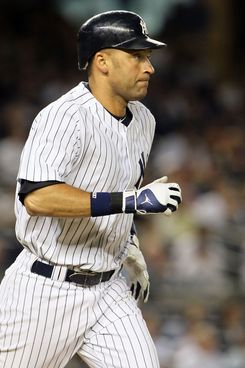 In case quotes like "I can't give you a timetable" from Derek Jeter himself hadn't been enough of an indication that the Yankees shortstop wouldn't return from the disabled list tomorrow — the first day he's eligible to do so — Brian Cashman made it official yesterday that Jeter won't be activated for tomorrow night's game against the Brewers. (So much for staying optimistic.) The good news for Jeter is that his rehab is progressing: He took batting practice yesterday, fielded some ground balls, and took part in a running program that included a few light sprints. But since Joe Girardi hinted that he'd probably need at least one rehab start before he returns — and you can bet the ticket office in some minor-league stadium is hoping he needs more than one — he could very well miss the entire Milwaukee series, and quite possibly games beyond it, including the ones at Citi Field this weekend.
The Yankees shouldn't feel the need to rush Jeter: They've been winning, after all (they're 9–3 since he went on the D.L.), and Eduardo Nunez has held his own in Jeter's absence, even if he's something of an adventure in the field. Jeter, eventually, will reclaim his job at short and, according to Girardi, his spot at the top of the batting order. But perhaps Jeter's stint on the disabled list will change one thing: You'll recall that when Jeter first hurt his calf, he fought to stay off the disabled list. Jeter has a reputation as someone who hates to miss a game — we're not sure he really deserves credit for this, by the way; no player wants to get less playing time — but he had stayed remarkably healthy in his career, and may very well have thought he'd heal up in a matter of days. That, of course, hasn't happened. It's not a major injury he's dealing with, but it's the kind of thing that takes time to heal. As Jeter plays through his late thirties, it's unlikely that this is the last time an injury will cause him to miss a game, or two, or fifteen. And even when he's healthy, an extra day off from time to time would probably help him in the long run. If Jeter learns anything from his time on the D.L., it's that he doesn't need to put up a fight when Girardi feels the need to rest him. We all know he wants to play every day, but we won't hold it against him if he doesn't.