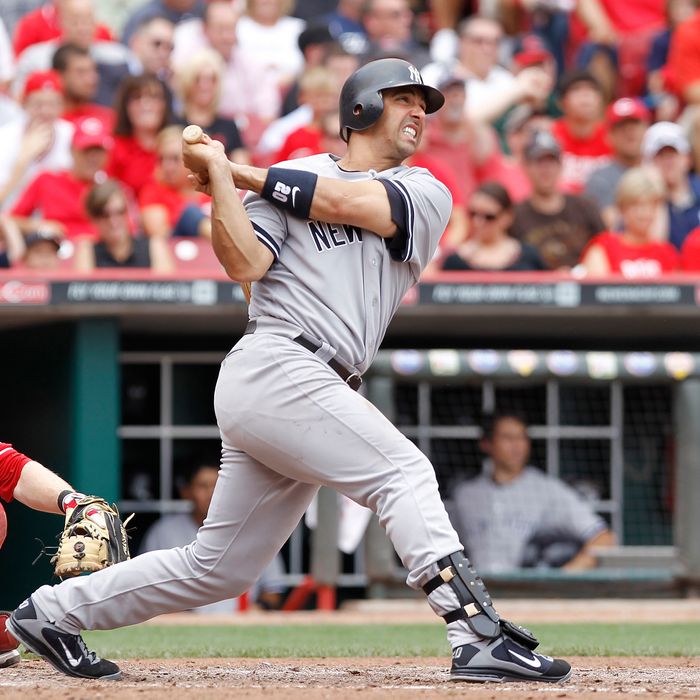 Photo: Joe Robbins/2011 Getty Images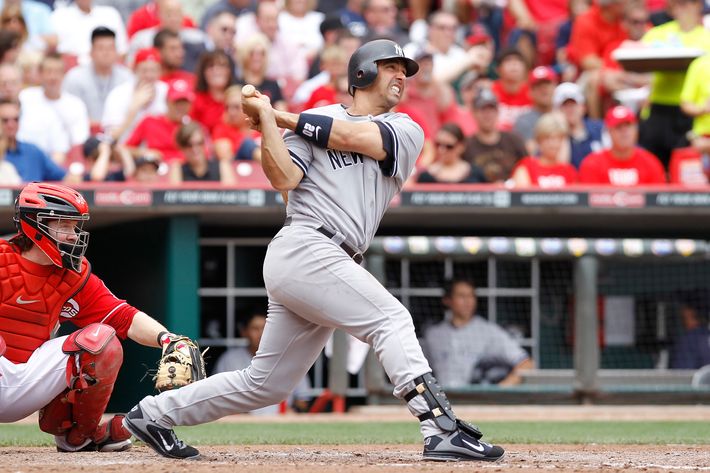 Jorge Posada's two-run home run in the first game of yesterday's double-header against the Reds gave the Yankees a 4–2 lead they wouldn't relinquish. Freddy Garcia pitched seven terrific innings, the bullpen pitched two scoreless frames, and the Yankees took their fourth straight game. Meanwhile, in Boston, the Padres were taking the rubber game of their series against the Red Sox, a team that had been even hotter than the Yankees, winning fourteen of sixteen games through Monday. And so for a few hours yesterday, the Yankees sat atop the A.L. East standings, albeit by mere percentage points. The exact order of the standings doesn't matter quite as much today as it will a couple months from now, but considering how well the team they're chasing had been playing — and how thoroughly that team had dominated them this year — that's a minor accomplishment.
Alas, the Yankees' stay atop the division was only temporary: They dropped the nightcap to the Reds — Brian Gordon lasted just five innings, and Chris Heisey homered three times — dropping them back to a half-game behind Boston. Still, the Yankees must be happy with their recent play: They took four of six on their N.L. Central road trip, and have won their last four series, taking ten of the thirteen games in those series. They currently have the third-best record in baseball. (Which isn't to say they haven't felt at least some effects from their recent wave of injuries: After all, Gordon, who took the loss yesterday, wouldn't have been in the rotation had Bartolo Colon not gotten hurt. And the fill-ins for Derek Jeter at shortstop have been, shall we say, an adventure defensively.)
And so the Yankees return home tomorrow for two more series against National League teams — meaning no more of that "pitchers have to bat" nonsense until they finish their Interleague schedule over Fourth of July weekend at Citi Field.