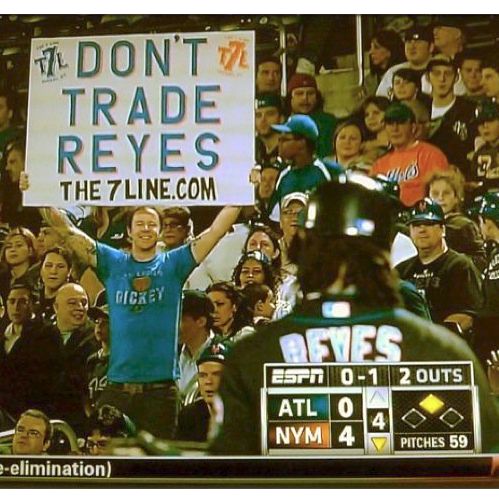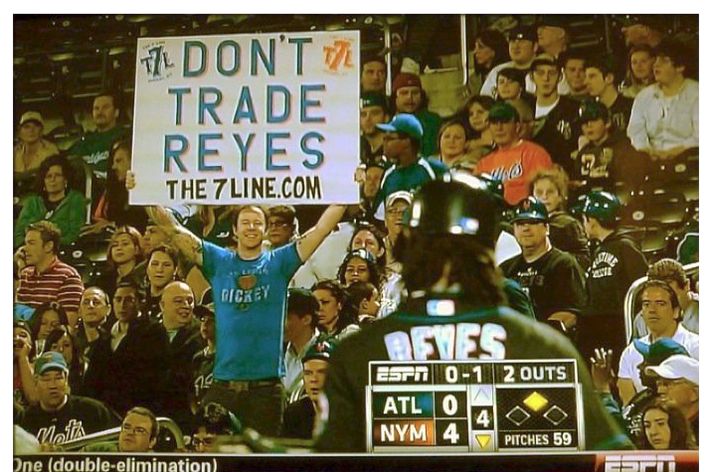 What you see above is a screen shot from last night's Mets win over the Braves. Shortly after that "Don't Trade Reyes" sign had its moment of national exposure, the man holding it was asked to leave Citi Field. Today, he's telling his story, both on WFAN and on his blog.
His ordeal, in a nutshell: He'd brought the sign with him on Friday without incident — it was even shown and discussed on SNY, he says — but last night, after he displayed the sign during Jose Reyes's fourth-inning at-bat, he was told by a security guard that he couldn't hold it up during play. This makes sense — doing so is not only inconsiderate, it violates the team's stated rules about banners — so after the at-bat ended, he held it up again and was told that he couldn't display it because it contained a website address. (Rules also prohibit commercial messages.)
As he tells it today, the fan, Darren Meenan, also agreed that this made sense. But here's what happened next:

I decided to leave the section on my own and walk back to my original spot. I agreed that I wouldn't show the sign anymore. They didn't kick me out right off the bat. I folded up my sign and while walking out (while fans booed of course.. they wanted me there) and people around asked how to contact me. I gave out about 10 business cards and that is what set off security even more. That is now soliciting I guess.

The guard asked to see my ticket. I did in fact have one for that section. He then confiscated the ticket and asked me to leave on my own or leave in cuffs. I asked on what charge and he said "now you are trespassing, you don't have a ticket". Real classy.
The thing is, Meenan technically violated Citi Field rules. Legally, security was probably within their rights to do what they did. But it's not exactly a step in the right direction for fan relations. (Handing out business cards with the URL of a Mets blog is also hardly the worst thing one can do in a baseball stadium. Maybe there's more to the story, but a warning about that seems like it would have sufficed.) Perhaps it's not the message on the sign that got Meenan kicked out, but you'd think security would be a little sensitive here. It's every franchise's dream not only to have players who inspire such strong feelings, but to have fans who care enough to start such a movement to keep a player in town. That's the type of fan the Mets should be catering to, not finding reasons to eject. The lesson to be learned here: If you're going to express your position on Jose Reyes, make sure you follow each and every one of Citi Field's regulations.