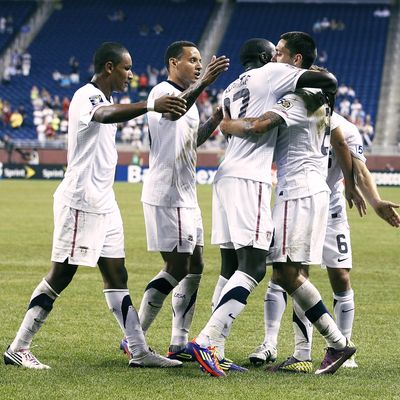 Photo: Gregory Shamus/2011 Getty Images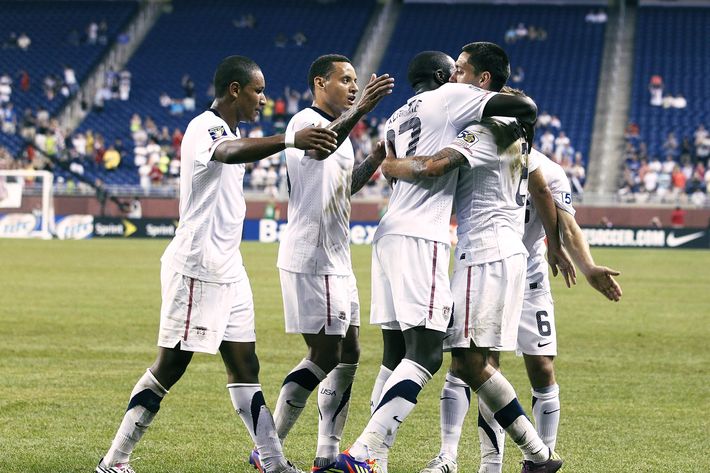 A year ago at this time, we were frantically studying up, reading Run of Play, listening to the EPL Talk podcast, doing everything we could to prepare for the World Cup. We still miss the World Cup; we can't believe it's three more years until it returns. This site got a little nuts during the United States' "run" last year, and we vowed that once the World Cup was over, we'd follow USMNT throughout qualifying and all the tournaments between then and the 2014 World Cup in Brazil. Uh, we totally haven't done that.

But it's not too late to start. In fact, there's a tournament going on right now.
So, if you're a dope like us and are just now catching up, let's do a rundown. The road to 2014 has already begun. Here's what's going on.
On Tuesday, USMNT, with Bob Bradley and Landon Donovan and Clint Dempsey and all those guys you loved from last year, beat Canada 2–0 in their first CONACACF Gold Cup match. The Gold Cup is CONACACF's (Confederation of North, Central American and Caribbean Association Football) championship, with the winner advancing to the 2013 FIFA Confederations Cup in Brazil, essentially the dress rehearsal for the World Cup.
The U.S. won the last Gold Cup, in 2007, and actually lost in the 2009 Confederations Cup final to Brazil. The Gold Cup is not a qualifying tournament for the World Cup. World Cup Qualifying actually begins next week, with Montserrat (35th, last in CONACACF) playing Belize (26th in CONACACF), and will continue with the eight lowest-seeded teams through July 12. Then, this September, five qualifiers from that first round will join the teams seeded No. 7 to 25 in CONACACF for the second round. That won't affect the United States, either: They're CONACACF's No. 1 seed, so they have an automatic bye into the third round, which won't start until February 2013. The first match that has anything to do with the U.S. in the 2014 World Cup isn't until then. So you have some time.
So, the Gold Cup — which doesn't affect the World Cup but still must be won to qualify for the prestigious Confederations Cup. The U.S. is highly favored to win Group C, which features Canada, Panama, and Guadeloupe. They play Panama in Tampa on Saturday night, 8 p.m., on Fox Soccer Channel, and Guadeloupe in Kansas City on Tuesday night, also 8 p.m., also Fox Soccer Channel. (That also happens to be when Game 7 of the NBA Finals would be played.)
They only need to finish in the top two of Group C to advance to the quarterfinals (they can also finish as one of the top two third-place teams, if that makes sense), with that knockout round beginning June 18 to 19, the semis June 22 in Houston, and the championship June 25 at the Rose Bowl in Pasadena. So this is all gonna be done in a fortnight.
Oh, also: You can go see some of these matches! Red Bull Arena in Jersey is hosting four matches. Unfortunately, none of them involve the U.S. team, but still. They are:
*** Guatemala vs. Grenada, 7 p.m., Monday, June 13
*** Honduras vs. Jamaica, 9 p.m., Monday, June 13
*** Group A winner (very likely Mexico) vs. Group B third place or Group C third place, Saturday, June 18
*** Group A runner-up vs. Group B runner-up, Saturday, June 18
Plenty of good seats available.
Lots of smarter people than us have solid previews of the U.S. chances to win the Gold Cup, but we felt it more important just to let you know it's going on right now. You can relive all those moments from last year, and even slowly transition toward the next World Cup. We're gonna stick with it this time. We mean it.