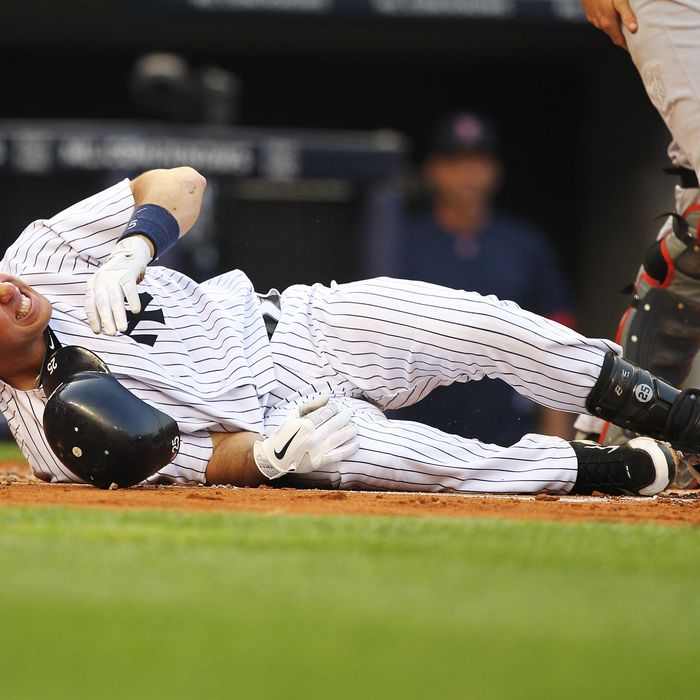 Photo: Al Bello/2011 Getty Images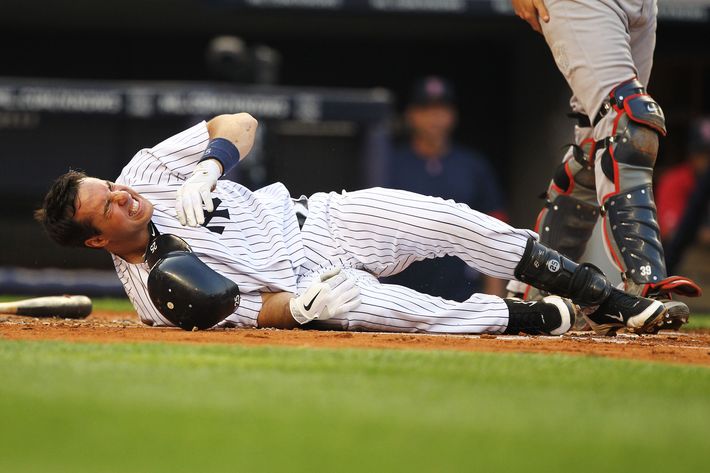 Right now, the Yankees are officially in first place in the American League East, ahead of Boston by a whopping .002 percentage points. That's pretty remarkable when you consider how one-sided this year's series with the Red Sox has been: Last night was the seventh meeting between the teams, and Boston has won six of them, including all four played at Yankee Stadium. (Thankfully, the Yankees have owned Baltimore this year just as much as they've been owned by Boston.) These things can turn around — one needs to look back just a couple years, when the Yankees started 0–8 against Boston and then won nine out of the next ten against them — but last night wasn't a very good start to this difficult homestand.
Speaking of bad starts: Freddy Garcia struggled beginning with the very first batter last night, lasting just an inning and two thirds and leaving with a 4–1 deficit (and the bases loaded, no less). And though the Yankees hadn't lost the game just yet — it was only the second inning, after all — they had already lost Mark Teixeira, who was hit on the knee by a Jon Lester pitch and had to be helped off the field. (X-rays were negative, and he was diagnosed with a right knee contusion. He likely won't play tonight.) Teixeira was replaced by Jorge Posada — the phrase "pinch-runner Jorge Posada" usually indicates something has gone wrong — and Posada had himself a big night, inching toward the Mendoza line with three hits (including his first off a lefty all season), as well as a walk. (You'd have forgiven Posada for being distracted last night, too: His son is scheduled to undergo what his family hopes will be his final surgery for craniosynostosis today.)
In any case, to add perceived insult to injury, David Ortiz blew the game open in the fifth with a two-run homer, flipping his bat and doing a little spin before taking his trip around the bases. Joe Girardi didn't appreciate it — you can watch the video here — but Papi wasn't apologizing afterward. From the News:

When told that Girardi took some offense at the gesture, Ortiz could only shrug.

"It's not my first time. It's not going to be my last time," Ortiz said. "Big deal. I'm a home run hitter - that's all I can tell you right now. It's not like I do it all the time. I'm humble."

"He took his time coming out of the box," Russell Martin said. "You never want it to happen to you, but I guess it's up to us to do it back right to him.

"It's part of the game. Some guys do it, some guys don't. … I've seen him do it before. I like it better when he's doing it against other teams. I think it's partly because we threw a ball way in, and it almost nicked him. And he kind of rubbed it in our face."
Not that the Yankees — who'd go on to lose 6–4 after A-Rod, the tying run, struck out to end the game — should need any additional motivation to start beating Boston. (Nor do we think a bat flip and a pirouette will be treated like an international incident.) But something in this season series needs to change. A.J. Burnett goes against Tim Wakefield tonight.