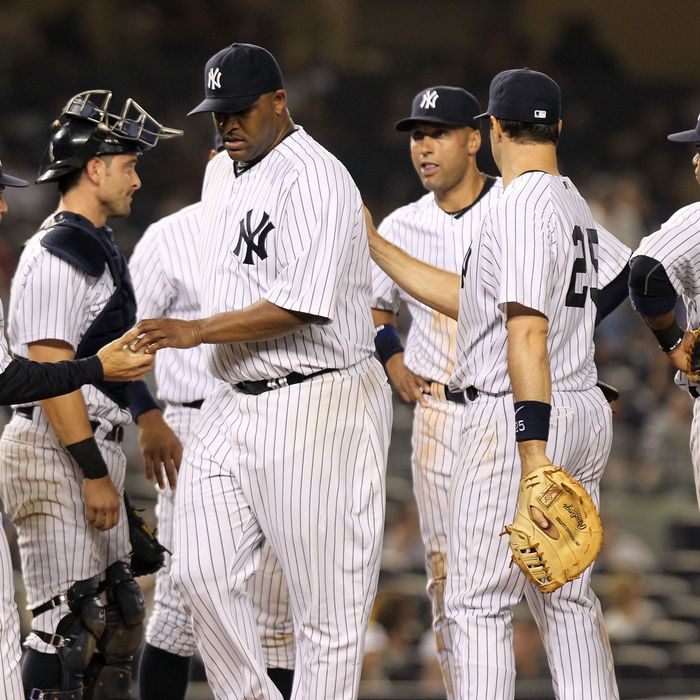 Photo: Nick Laham/2011 Getty Images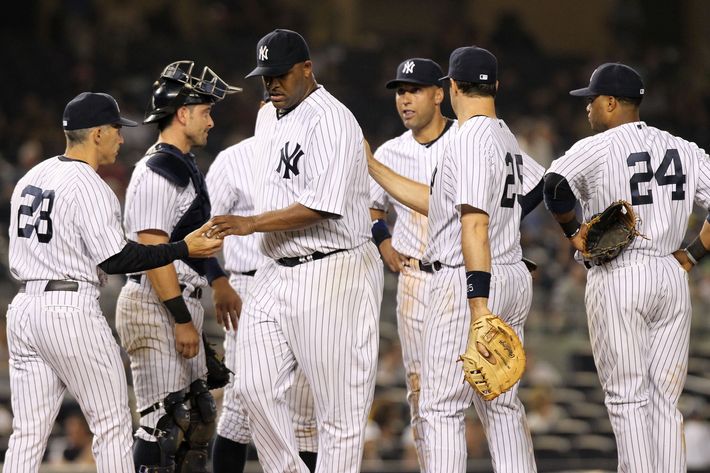 Is there a way to make the experience of watching the Yankees get swept by the Red Sox for a second straight time at Yankee Stadium any less pleasant than it normally would be? Apparently there is: Don't start the game until 10:32 p.m., and make sure that the Red Sox don't blow the game open — as they inevitably do against the Yankees these days — until well after midnight, punishing those who waited out the rain delay inside the stadium, or stayed up past their bedtimes at home.
For a while, this game appeared to be playing out differently than the first two in this series. This time, it was the Yankees getting on the board first, on Curtis Granderson's home run. (That, by the way, is the best way to respond to a teammate getting hit by a pitch, as Derek Jeter had to lead off the top of the first.) CC Sabathia hadn't allowed a run through six innings, unlike Freddy Garcia and A.J. Burnett, both of whom dug themselves a first-inning hole. And Sabathia even plunked Ortiz with a pitch, much to the delight of those left inside the stadium. (Among the biggest cheers last night: when the grounds crew came on the field to begin taking the tarp off, when Granderson hit his home run, when the final score of the Mavs-Heat game was shown on the scoreboard, and when Sabathia hit Ortiz. It was a strange night.)
But Boston would chase Sabathia in a seven-run seventh, and by the time the game ended at 1:43 this morning, the Sox had an 8–3 win, their second straight sweep at Yankee Stadium, their eighth win in nine games against the Yankees this year, and a two-game lead in the A.L. East.
But back to Ortiz for a moment. By the time he batted in the fourth inning, Josh Beckett had already hit Jeter and Alex Rodriguez with pitches. Meanwhile, the Yankees still hadn't forgotten Ortiz's bat flip and twirl from Tuesday night. So it really shouldn't come as much of a surprise that Sabathia did something that, hard as it is to believe, no Yankees pitcher had ever done: He hit Ortiz with a pitch. All of this seems fairly predictable: The Yankees felt Ortiz showed them up, and two nights later, after two of their big-name players were plunked by Beckett, they drilled Ortiz with a pitch. This, it would seem, should have ended this particular story line. But Ortiz kept it going after the game. Via the Post:

After the game, Ortiz blamed the media for getting hit. He did not take questions, just issued a brief rant.

"Are you guys waiting for me?" he said. "There will be no questions. It's going to be just Papi talking and if you don't like it just get the [expletive] out of here.

"I just want to thank you guys, not all of you, most of you for the stat today of me not getting hit by the Yankees. I finally got hit. I hope you mother[expletives] are happy. I'm done.

"You guys like to criticize us when we [expletive] up. Criticize yourselves now."
Damn, it appears Ortiz has uncovered The Media's grand conspiracy to see him get hit, once, by a pitch thrown by a Yankee. (Did you know the Yankee beat writers have been meeting every Monday for years trying to orchestra this? Well, they have. True story.) We always knew he'd go off on an expletive-filled rant when he uncovered Operation Plunk Papi.
In all seriousness, though, let's not pretend this is entirely a media creation: Surely Joe Girardi was bothered by Ortiz's antics — however mild they may have been — on Tuesday night, before any reporter asked him about it. CC Sabathia was well aware how many of his teammates had been hit in this series and didn't need to be told by anyone in the media how to respond. Players know how to police themselves, regardless of whether anyone in the press keeps bringing it up. We'll say this though: The amount of ink spilled over this story is way out of proportion to how much we actually care about it. We do hope it's over now.
At the very least, it's on hold now until August, when the Yankees will next face the Red Sox. After what Boston's done to them over the first 60 games of the season, we're sure they don't mind the break.