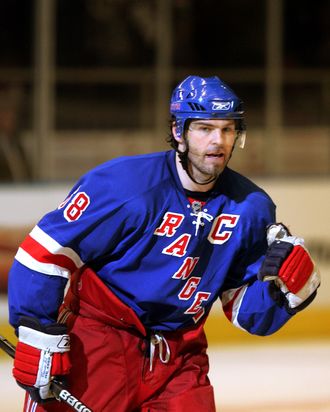 Photo: Bruce Bennett/2008 Getty Images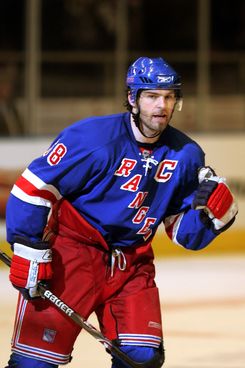 As buzz grows about Jaromir Jagr's potential return to the NHL — and as he narrows down his list of potential landing spots — it was only a matter of time before a report mentioned the Rangers as a team that the 39-year-old, who spent the last three years playing for Avangard Omsk of the KHL, might want to play for. Jagr's agent has been talking to the press today — it's at least possible that all of this is a ploy to get more money for Jagr in Russia, although he's reportedly serious about a return — and depending on which report you read, there are as many as four places he could wind up.
His agent, Petr Svboda, tells ESPN's Pierre LeBrun that Jagr's options include Pittsburgh, Detroit, and "another team I can't name." Svboda also tells Rob Rossi of the Pittsburgh Tribune-Review that the Penguins and Red Wings are front-runners, but that other teams are in the mix. (Writes Rossi: "He would not identify those teams or the league's in which they play.") And Svboda tells Ted Kulfan of the Detroit News that if Jagr returns to the NHL, he'd like to play for Detroit, Pittsburgh, or "one or two" other teams.
The identity of those teams remains a mystery, but Kulfan takes a stab at which they might be: "Those teams are believed to be the New York Rangers and Montreal."
Now, as far as these things go, that's a fairly weak connection to the Rangers. But let's just be clear: He's not a fit for them. For one thing, the Rangers are in good shape at right wing, with Marian Gaborik and Ryan Callahan on the top two lines. They're also a young team, and if Jagr is looking to sign a one-year contract to compete for a Cup next season — his agent calls the chance to win again the "main factor" in his decision — then he probably wouldn't be interested in joining the Rangers, no matter how promising their future may look. Also: He's 39 years old, and even during his last season in New York in 2008, he admitted he conserved energy during the regular season in order to be strong for the playoffs. We're not sure that would go over well with John Tortorella.
Jagr's agent says there's a "really, really good chance" he'll play in the NHL next year, and over at Puck Daddy, Greg Wyshnski raises all the relevant questions, from how much he'll cost, to age-related concerns like this: "Can his 39-year-old body hold up to the rigors of the NHL when one great Alex Ovechkin hit in the Olympics seemed to sap him of this mojo?" All good questions, but ones for some other team's GM to answer.