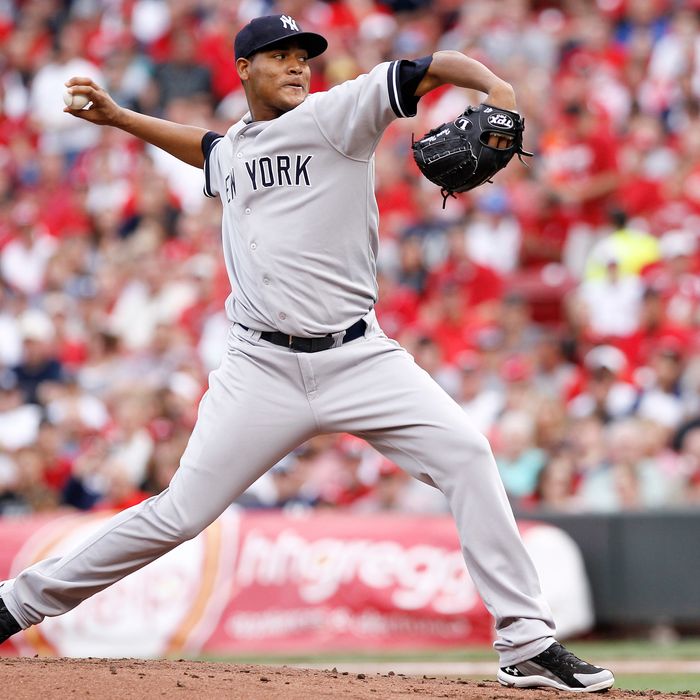 Photo: Joe Robbins/2011 Getty Images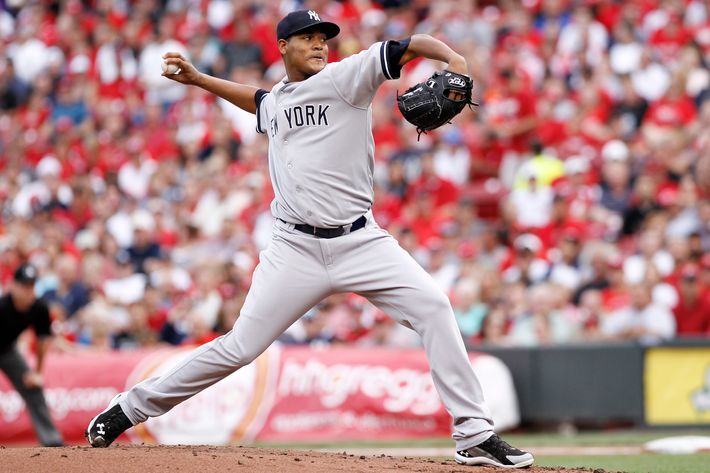 Ivan Nova had a comfortable lead before he threw his first pitch last night — the result of a productive top of the first in which the Yankees tagged emergency starter Travis Wood for five hits and four runs. (The homer-happy Yankees, playing in homer-friendly Great American Ball Park, scored all five of their runs last night without the help of the long ball, by the way.) And though Nova would give a run back in the bottom of that inning, he'd pretty much cruise from there, lasting eight innings in the longest outing of his career.
According to Bill James's game score metric, it was also the best start of his career. It's easy to see why: He allowed just the one run, didn't walk a batter, and struck out seven over those eight innings. But most impressive last night was how Nova had all the pitches in his repertoire working: He'd made an effort to incorporate his change-up more often last night, but he threw his fastball, curveball, and slider effectively, as well. Nova recorded fifteen outs on the ground — and just two by fly ball.
Nova, who threw 105 pitches (70 for strikes), thought he could have finished the game. (Said the righty after the game, on his thoughts when Girardi told him his night was over: "Why are you taking me out?") The Yankees had a 5–1 lead at that point, and in the bottom of the ninth, both Luis Ayala and Boone Logan would put a runner on base before Girardi called on Mariano Rivera. Both of those inherited runners would score, and though the tying run would come to the plate in the inning, Rivera would strike out Edgar Renteria to end the game, and earn Nova his third win in as many starts. Last night's 5–3 win, by the way, is the Yankees' third victory in a row, their sixth in seven games, and their ninth in eleven games. They remain a game and a half back of Boston, though: The Red Sox win last night was their fourteenth in their last sixteen games.