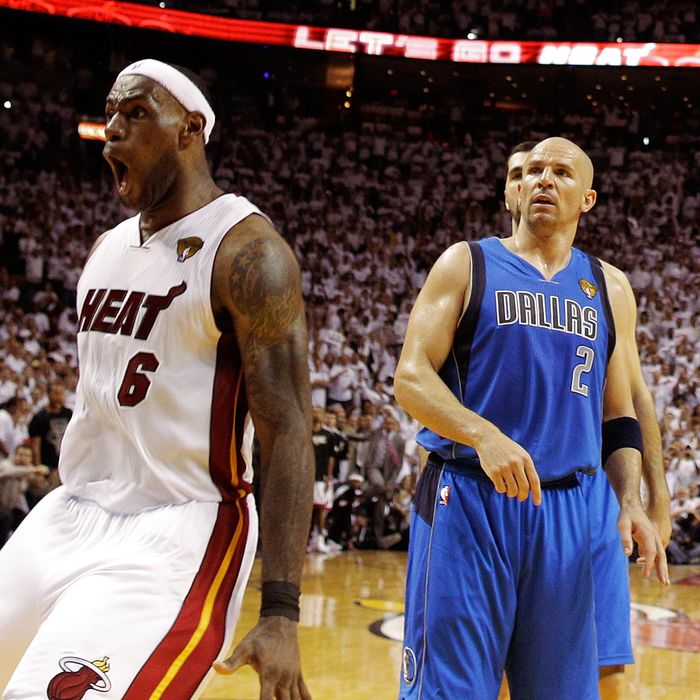 Photo: Pool/2011 Getty Images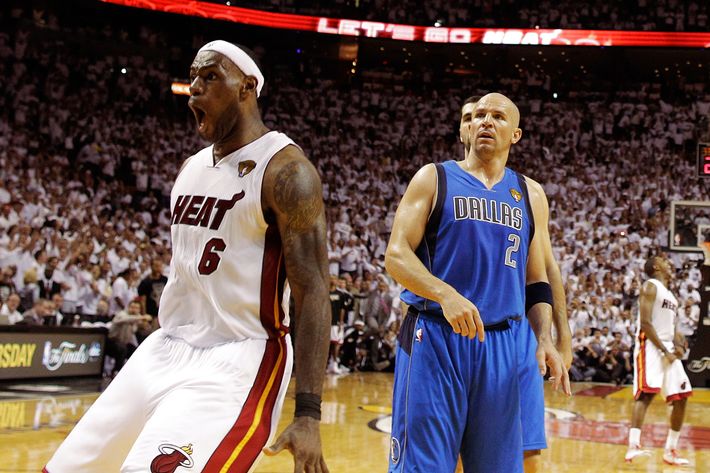 Anyone who has watched the NBA playoffs over the last fortnight has seen the preview for Bad Teacher, a film that surely has nothing to do with sports, save for one handy moment in which co-star Jason Segel screams at a young boy about Michael Jordan's inherent superiority over LeBron James. It's a funny moment in a movie that doesn't look like it'll have many of them and speaks directly for the audience watching these NBA Finals: Even though LeBron is in the process of building his legacy, a legacy that at least could rival Jordan's, none of us want to deal with that right now. We want to see him undermined, even as he dominates. Thank you, Jason Segel.
The Heat used yet another fourth-quarter run to win Game 1 of the NBA Finals 92–84 last night, and it was difficult to come away thinking the Mavericks have enough to even make much of a series of it all. We were listening to the ESPN NBA podcast with Ryen Russillo — our second-favorite NBA podcast — and he had our old friend David Thorpe as a guest. Thorpe, in previewing this series, made an analogy to Super Bowl XXXVII in 2003, between the Buccaneers, known for having by far the best defense in the NFL, and the Raiders, known for having the best offense. For all the "Hollywood" of the Heat, their defense, particularly their fourth quarter defense, has been dominant in ways that are a little terrifying. Not even the Mavericks, who have shot like demons the whole playoffs, could solve that last night. And now Dirk Nowitzki has an injury. Look out.
It's enough to make you at least wonder how the Heat would guard Michael Jordan and the Bulls in the fourth quarter, which, after all, is where the Bulls won all their titles.
But we digress. The Heat looked last night like they might breeze through this series and win LeBron's first title. The first of what could be a near-decade of a run, considering these Heat are only going to end up with stronger benches and supporting casts over the next few years, once talented veterans start to pull a Barkley/Drexler/Malone and sign up for a small salary to win that first ring. LeBron will need six to catch Jordan someday. He looks three games away from getting an earlier start than we'd all been expecting. So please yell, Jason Segel, while you can. We want to buy what you're selling, as long as you're not selling that silly movie.
By the way: Look who's weighing in on this issue!