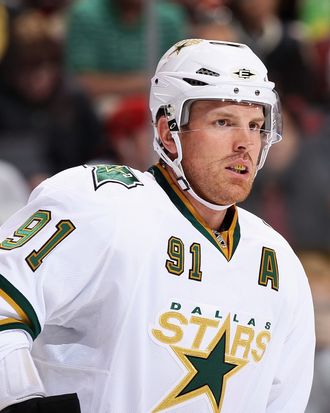 Photo: Christian Petersen/2011 Getty Images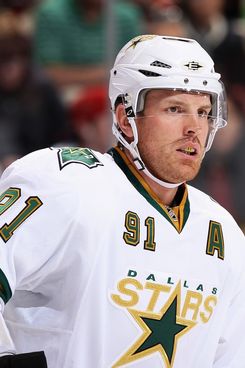 Brad Richards would nicely fill a need on the Rangers roster, as presently constructed: He's a first-line center — he's surpassed the 40-assist mark eight times — who can not only skate on a line with Marian Gaborik but play the point on the power play. And he's already played for John Tortorella, not only getting his name on the Cup with Tampa Bay but winning the Conn Smythe Trophy. The Rangers have a strong core of young players, but they lack an elite top line. And though pairing Richards with Gaborik is no sure thing — injury histories aside, we've given up trying to predict who will and won't click with Gaborik — the two of them could provide the type of top-line scoring punch too often missing last season.
Pre-lockout, we'd have had no doubt that the Rangers would sign a player like Richards when he became a free agent, as he will at noon tomorrow. Rich teams like the Rangers could hand out big contracts without having to worry about a salary cap. (See: Holik, Bobby.) And the Rangers, in particular, regularly tried to a build a competitive team through free agency, grabbing big names regardless of whether their best years were behind them.
Now, of course, in the salary-cap era, it's not so simple. Whether Richards fits on the roster matters, but whether his contract fits does too. And the Rangers should know as well as any team that big free-agent contracts can be dangerous: Just yesterday, they bought out the final year of Chris Drury's bloated contract, and two summers ago, they shipped Scott Gomez and his huge cap hit to Montreal in order to clear space for Gaborik. Wade Redden, meanwhile, spent last season as the highest-paid member of the Connecticut Whale. (The jury is probably still out on Gaborik's contract, after one impressive season and one disappointing one.)
Glen Sather, to his credit, has been assembling that aforementioned core of young players over the past few seasons. The Rangers are getting younger, and as that core develops, the the team should continue to improve. But the Rangers are still a ways from being true Cup contenders, and the right free agent signings can complement that core. If the Rangers sign Richards tomorrow (or at some point over the next few weeks), it's not necessarily a sign that he's wavering from that commitment (assuming, at least, he's still able to sign his key restricted free agents). But Sather better be sure that Richards will produce, because getting out from under an ill-advised contract can take years.
It all comes down to the cost. As Larry Brooks argued earlier this week, there exists a price at which signing Richards, even at 31 and coming off a concussion, is worth the risk. But Richards may command, to use a figure suggested by the Times, some $50 million over seven years. That's a significant risk, even for a player who could potentially help this team a great deal, at least in the short term. Perhaps Sather has learned from past mistakes and won't overpay for another free agent. But if he does pursue Richards, his risk better pay off this time.