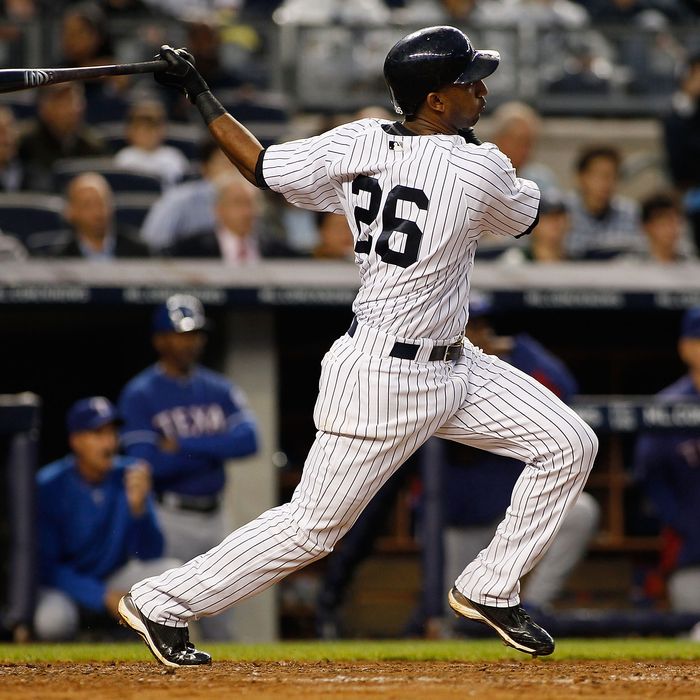 Photo: Mike Stobe/2011 Getty Images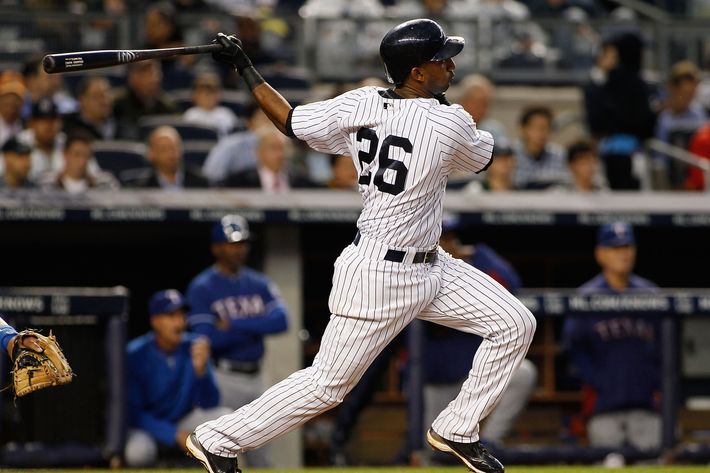 For last week's magazine, Dan Szymborski of Baseball Think Factory and ESPN provided projections for some of the veterans on the Yankees' roster, including Derek Jeter, who was placed on the disabled list yesterday for the first time since 2003. Szymborski projected that Derek Jeter would play in 137 games in 2012, 126 games in 2013, and 117 games in 2014, the player-option year of Jeter's contract. Jeter has stayed remarkably healthy in his career to this point, but as he gets closer and closer to 40, it'll becomes less and less likely he'll play in the 150-plus games he's grown accustomed to appearing in. And so these two weeks (at least) without Jeter could be something of a preview of things to come.
Last night — with Brett Gardner leading off and Eduardo Nunez playing shortstop — the Yankees routed Texas 12–4. Gardner had three hits and a walk, while Nunez picked up two hits and an RBI. (The stat of the night, via Big League Stew: Rangers starter Alexi Ogando, who fell to 7–1, has allowed eleven runs in eight innings against the Yankees this year, and fourteen runs in 75 innings against the rest of the league.) Seven different Yankees drove in at least one run, CC Sabathia threw seven innings of four-run ball, and the Yankees won their fourth game in five tries since the most recent debacle against Boston.
As Bronx Banter points out, Nunez — who turns 24 today — was given something of an early birthday present yesterday: an opportunity to prove he can play shortstop, every day, in the majors. And Nunez — who had 114 big-league plate appearances to his name entering last night's game — had an impact almost immediately, with a bases-loaded single scoring the first Yankees run of the night. This was supposed to be the week in which Derek Jeter tried to collect his 3,000th career hit. Instead, that chase is on hold, while Nunez gets his chance to prove he belongs. His two hits last night, by the way, were Nos. 27 and 28 for his career.