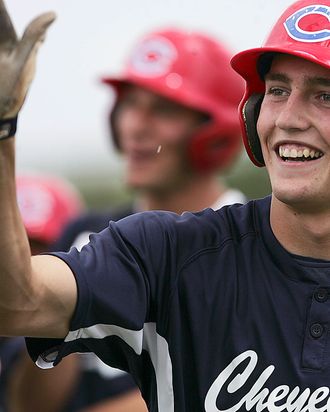 Photo: Jerret Raffety/AP2010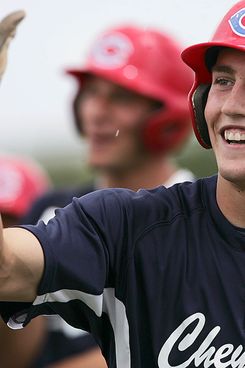 With the thirteenth overall pick in the MLB first-year player draft last night, the Mets took high school outfielder Brandon Nimmo. Or perhaps it's more accurate to say that they took outfielder Brandon Nimmo, who is also in high school. Nimmo, you see, hails from Wyoming, which is one of three states without high school baseball. So Nimmo instead played for his local American Legion team, for which he hit .448 with fifteen home runs in 70 games last summer, while stealing 34 bases without getting thrown out once.
The consensus this morning is that the Mets, in a departure from recent years, took a calculated risk with the pick, drafting a player with a high ceiling and raw talent, as opposed to one who'd arrive in their system a bit more polished. (ESPN's Keith Law called the pick "huge," saying it shows that they're "finally drafting for ceiling!" Exclamation point his.)
Paul DePodesta, the Mets vice-president of player development and scouting, said that the Mets entered the draft looking for a position player and felt if they were going to get an impact bat, they'd need to take one with their first pick. And they also weren't afraid to take a little risk. Via the News:

"We weren't interested in making the safest pick," DePodesta said moments after selecting Nimmo with the 13th overall pick in Secaucus. "We were interested in the pick that could have the most impact."
The six-foot-three Nimmo, who bats left and throws righty, won MVP honors at the Under Armour All-America Game at Wrigley Field last summer, and MLB.com reports that he's got a smooth left-handed swing and decent speed. (He's played football and run track in the past.) Baseball America ranked him as the second-best high school athlete in the draft and as the second-best pure high school hitter, and also said that he has the second-best strike-zone judgment of all high school prospects. That MLB.com scouting report said he'd drawn comparisons to Paul O'Neill, while MetsBlog found someone who compared him to Curtis Granderson and writes that Jon Heyman compared him to Rocco Baldelli. Make of all that what you will.
Nimmo — like Michael Fulmer, the right-handed pitcher the Mets took with the 44th overall pick they received because the Yankees signed Pedro Feliciano — has committed to the University of Arkansas, but the Times reports that both indicated that they intend to sign with the Mets.