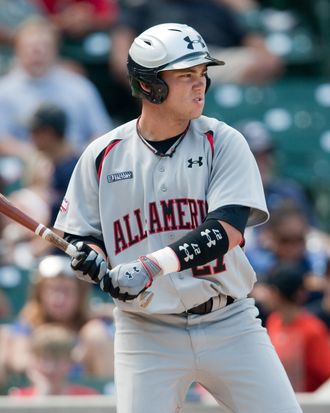 Photo: Damen Jackson/Icon SMI/?Icon Sports Media Inc. (Icon SMI) All Rights Reserved contact: sales@iconsportsmedia.com http://iconsportsmedia.com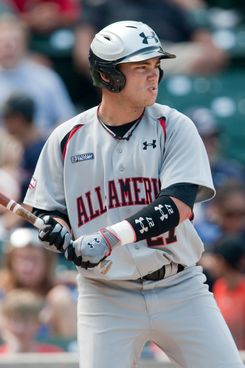 The Yankees did not have a first-round pick in last night's first-year player draft: They lost theirs to Tampa Bay when they signed Rafael Soriano. (This is the pick Brian Cashman said he wouldn't lose for anyone but Cliff Lee — back before he was overruled by Hal Steinbrenner.) Instead, they made their first selection this year during Compensation Round A. (The pick, the 51st overall, was compensation for Javier Vazquez.) In any case, with that pick, they took a familiar name, sort off, grabbing Dante Bichette Jr., the son of the former big-league outfielder.
Unlike his dad, Bichette Jr. has played mostly shortstop, though Baseball America's Nathan Rode wrote last night that he'll "likely move to a corner outfield spot where he projects to hit for average and power." In 30 games as a senior this year at Orangewood Christian in Florida, Bichette Jr. batted .640 with ten home runs, and he's twice been selected as the All-Central Florida Player of the Year. But via Was Watching, Bichette Jr. — who'd committed to the University of Georgia — was ranked as just the 108th best prospect in the draft by Baseball America. This seems like as good a place as any to mention that Bichette Sr. is one of Joe Girardi's best friends: The Yankees manager even named his son Dante after him. The younger Bichette seemed to like where he was picked, at least according to his Twitter feed: "Wow! The greatest situation possible. The New York Yankees… Incredible. But this is just a start. Now it's time to focus get to work."
A couple of fun facts about Bichette Jr., as rounded up by the LoHud Yankees blog: He played in the Little League World Series in 2005 — he was coached by his dad — and at 14 he was a nationally ranked tennis player. (His favorite tennis player, by the way, is Rafael Nadal. Sorry, Roger.)
Bichette is said to have raw power, and so here's video of Bichette at the International Power Showcase in 2010, hitting a bunch of home runs inside a mostly empty Tropicana Field. Enjoy.