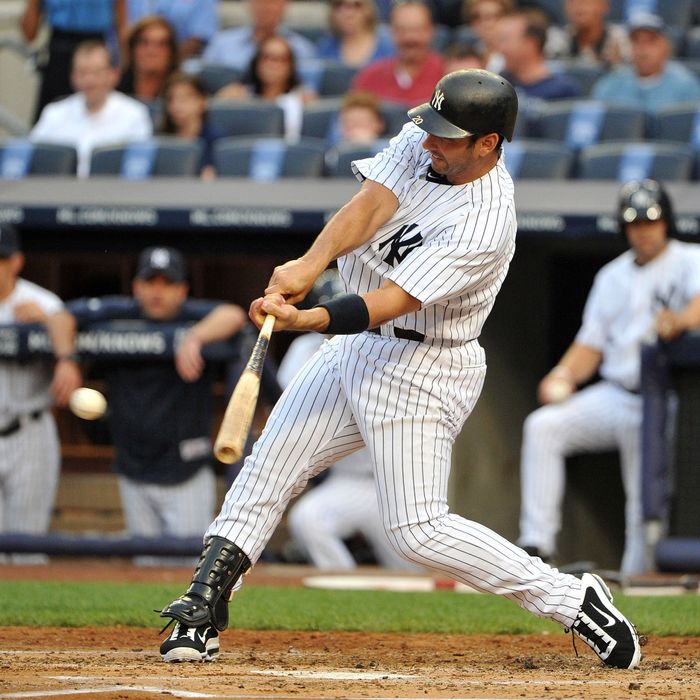 Photo: Christopher Pasatieri/2011 Getty Images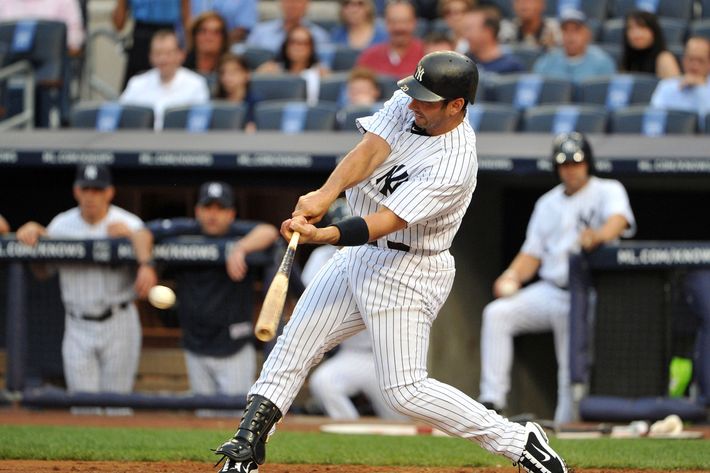 Another weekend of baseball is in the books — the Yankees won the first three games of a four-game set against Cleveland, while the Mets won two of the first three games in their four-game set in Pittsburgh — so what did we learn over the past couple of days? These nine things, for starters.
1. Carlos Beltran is the Bat Whisperer. The Times this weekend talked to Carlos Beltran about how he taps on and listens to each of his bats every time he gets a new shipment in. (It's a process he learned from Edgar Martinez, who'd taught him that the higher the pitch, the better the bat.) A box of a dozen new bats, if you're curious, might yield five or six worthy of use in a game.
2. Kei Igawa set the Scranton-Wilkes Barre franchise record for innings pitch. He also set the franchise record for home runs allowed. Both of these things sound about right.
3. Jorge Posada no longer has the lowest batting average among Yankee regulars. How's this for a six-game stretch: Posada, who was hitting just .169 through June 4, is currently riding a six-game hitting streak, over which he has five multi-hit games and has thriteen hits in 22 at-bats. And yes, we understand that batting average isn't necessarily the best measure of a hitter, but thanks to this stretch, Posada is up to .226 — or .001 better than Nick Swisher.
4. You can now readjust your expectations for Johan Santana's return. Once upon a time, the timetable for Santana's return, according to Sandy Alderson, was "the end of June, the middle part of July." That appears to be changing, if only by a few weeks. Here's Terry Collins, via the Post: "Should we plan on [the All-Star break]? I don't know if we should. In a perfect world if everything continues at the pace that it is, it's a realistic goal. But I'm probably looking more toward the end of July than the All-Star break." And since perfect-world scenarios tend not to play out for the Mets, it's probably safe to assume the end of July is the new realistic target date.
5. Looking like Barack Obama will get you on YES. And as this (unembeddable) clip from Friday night's game shows, it also means you'll have to pose for photos with assorted Yankees fans during a Cleveland pitching change.
6. A New York manager got mad this weekend (Part I). Joe Girardi's seen a lot of his players get hit with pitches, intentional or otherwise, over the past week, and after Fausto Carmona hit Mark Teixeira in the second inning on Friday, he reached his breaking point, getting into a shouting match with Manny Acta on the field. Girardi's oldest daughter would tell him after the game it's the angriest she's ever seen him, though we'd suggest she wait and see what will happen if one of these hit-by-pitches results in a serious injury. Then we'll see what Angry Joe Girardi looks like.
7. A New York manager got mad this weekend (Part II). Okay, perhaps this didn't involve actually shouting, but Terry Collins didn't appreciate that former hitting coach Howard Johnson told the Post that it was "ridiculous" to sit a struggling Jason Bay for two days. Said Collins: "Obviously, as soon as I showed up at the ballpark today, I was slapped in the face with Howard Johnson telling us we need to play him and not bench him," adding, "The other thing, I'm sure, and I think the world of Howard Johnson, but he hasn't got all the facts. So he should be careful what he said when he doesn't have all the facts."
8. Derek Jeter is running out of chances to get his 3,000th hit at home. Jeter collected two hits yesterday, leaving him seven shy of the milestone. But he's got just four games left, so while it's still possible he could get to 3,000 at Yankee Stadium, it still looks like it'll happen on the road — perhaps at Wrigley Field, as we've been projecting for a couple of weeks now.
9. Realignment could be more dramatic than you'd thought. According to Buster Olney, one proposal on the table would eliminate divisions altogether, instead creating two fifteen-team leagues. (It's been suggested that Houston could be the team to switch leagues.) Under the proposal, the top five teams in each league would qualify for the postseason. (That said, one source told Olney the odds of it happening are less than 50/50.) And needless to say, even a less radical realignment plan that involves leagues of equal size would mean that Interleague Play — even if it's just one game on any given night — would become a yearlong thing.