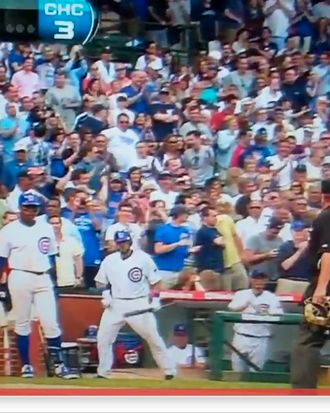 Another weekend of baseball is in the books — the Yankees won two of three at Wrigley, and the Mets dropped two of three to the Angels — so what did we learn over the past couple of days? These nine things, for starters.
1. Phil Hughes can still throw a baseball really fast. Phil Hughes made a rehab start for the Staten Island Yankees yesterday, allowing one run in four and a third innings. But more important, his fastball consistently registered 93 mph on the radar gun. Hughes, who hasn't pitched since April and who had struggled with his velocity earlier in the season, threw fastballs ranging from 89 mph to as high as 95 mph. Hughes plans on making his next rehab start at double-A Trenton this week.
2. Joe Buck forgot the score at a pretty important time this weekend. The Yankees added an insurance run in the top of the ninth Saturday to extend their lead over the Cubs to 4–2. Shortly thereafter, Reed Johnson led off the bottom of the ninth with a home run to make the score 4–3 — but that's not how Buck, who'd apparently forgotten that Yankees run from just minutes earlier, called it. Video of Bucks's awkward home-run call, in which he pronounces it a tie ball game, is below.
3. Jose Reyes isn't signing with Scott Boras. On Friday, Ken Rosenthal reported that "Scott Boras, the industry's most influential agent, is speaking with Reyes about becoming his representative, according to major league sources." And technically, that was true: Boras has wanted to represent Reyes since he was in the minors, and Reyes spoke with Boras twice over the phone earlier this year. ("He tried to explain to me a lot of business stuff," said Reyes.) Alas, Reyes said in no uncertain terms this weekend that he's not changing agents and will remain with his current agent, Peter Greenberg.
4. Brian Gordon's baseball glove is not made of leather. The journeyman made history — sort of, a little bit — when he took the mound for the Yankees on Thursday: He did so wearing a glove made entirely of synthetic materials, and he's thought to be the first big-leaguer ever to do so. The glove is the creation of a man named Scott Carpenter — the sole employee of the Carpenter Trade Company in Cooperstown — who's spent ten years working toward this. (Said Carpenter: "I always had the dream that synthetics were the future of baseball gloves and that I would be the person who made the first all-synthetic glove used in major league baseball.") Some facts about the glove: It weights five to ten ounces less than a standard leather glove, has no scent, and requires no oil to break it in. And also: Even though baseball rules say that a fielder may "wear a leather glove," it's legal. Carpenter checked with the league, long ago.
5. Alex Rodriguez may or may not have a minor shoulder issue. An article that begins with the following sentence is sure to scare fans: "New York Yankees slugger Alex Rodriguez has been battling a left shoulder injury of unknown severity for the past couple of weeks, an injury that may be the reason for his lower-than-average power production." Of course, the phrase "unknown severity" is a key one, and based on everything Rodriguez and Joe Girardi said yesterday, it doesn't seem all that severe. Here's Joe Girardi before last night's game: "It's just a small issue that only bothers him when he dives for a ball." And here's A-Rod, after last night's game: "That's the first I have heard of it," adding, "I don't know where that came from. It's nothing out of the ordinary, normal bumps and bruises." And then Girardi again: "He is fine, sore but nothing serious. He is just sore. It's not a strain."
6. For the record, Cory Wade doesn't blame Joe Torre for overusing him. Cory Wade made 55 appearances for Joe Torre's Dodgers as a rookie in 2008, throwing 71 and a third innings and pitching to a 2.27 ERA. The following season, he needed shoulder surgery, and his debut for the Yankees last week was his first appearance in the big leagues since 2009. (One baseball official, speaking to John Harper of the News today, called the new Yankees reliever "Proctor West.") But Wade doesn't blame Torre, who'd developed a reputation in New York for burning out his relievers. Said Wade: "Looking back, I know now there are times you can't be a hero. If you're tired, that one extra day might be better for the team and for yourself."
7. Mike Pelfrey looked like an ace on Saturday, at least. On Saturday — the Mets' only win against the Angels this weekend — Pelfrey threw a season-high 123 pitches to earn his first victory since May 10 and record his first complete game since 2008. And though Pelfrey — the Mets Opening Day starter this season — has struggled this season, he's been a little better of late: Since allowing seven runs in five innings to the Pirates on June 2, he's pitched to a 2.05 ERA in three starts, striking out thirteen and walking none in 22 innings. He's allowed thirteen hits over that span — opposing batters are hitting just .169 against him in those three games — though three of those thirteen hits were home runs.
8. The American League still owns the National League in Interleague Play. American League teams went 29–13 over the weekend, and so far this season, the A.L. has a .580 winning percentage in Interleague games. The National League hasn't had a winning record since 2003.
9. Albert Pujols got hurt. And today comes word that he'll miss four to six weeks. Sorry, Will.