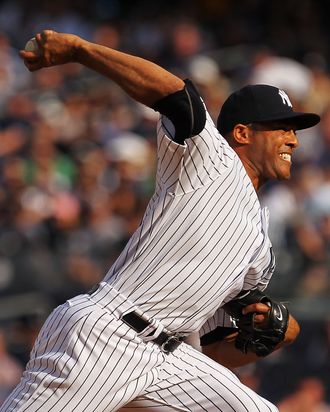 Photo: Al Bello/2011 Getty Images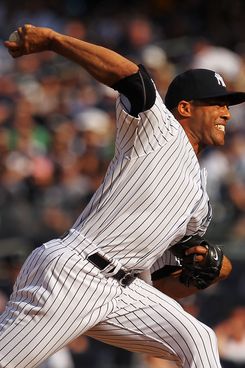 Another weekend of baseball is in the books — the Yankees won two of three against Colorado, and the Mets took two of three from Texas — so what did we learn over the past couple of days? These nine things, for starters.
1. Jeff Wilpon may or may not have wanted a bean-ball war, but he definitely didn't get one. The day after Justin Turner got hit in the pants with a pitch that forced in a game-winning run against the A's, Oakland's Graham Godfrey plunked Turner in the leg in his first at-bat. Many in the Mets clubhouse thought it was intentional, but the Mets pitchers didn't retaliate. And that lack of retaliation reportedly bothered Jeff Wilpon, who, according to ESPN New York, scolded the team in the clubhouse immediately after the series finale. That said, one player tells the Daily News that that Wilpon was "obviously kidding." So perhaps reminding Wilpon to let his players and coaches handle such things themselves isn't actually necessary.
2. Joba Chamberlain would like the world to see what an arm looks like after Tommy John surgery. Through the wonder of Twitter, here are photos of Joba's arm in a bloody bandage, with the scars from surgery showing, and in a brace. Needless to say, don't click through if you don't want to see images of an arm in a bloody bandage or with scars from an operation. The one of the brace isn't graphic, though, so the squeamish don't need to avoid that one.
3. Mariano Rivera couldn't talk Michael Kay into introducing him during Old-Timers' Day introductions. Mariano Rivera will turn 42 in November, and yesterday he tried to convince co-emcee Michael Kay to introduce him during the pregame Old-Timers' ceremony. Kay, alas, wouldn't do it, leading to this amazing bit of video from the YES broadcast. Joked the Yankees' closer about the play-by-play man: "He blew it. That big head, he blew it. I told him, but he didn't want to do it. So I'm mad at him." Video proof that this actually happened appears below.
4. There used to be a dental practice with dentists named Wakefield and Dickey. So reports the Times, in a story about Dr. Steve Dickey and Dr. Brian Wakefield, Texas dentists who for seven years shared a practice, and who also share the last names of baseball's only two knuckleball pitchers. (We'd say that this is the strangest dentist-related baseball story you'll read all day, but it's probably more accurate to say it's the strangest baseball-related dentist story you'll read all day.) Said Dickey: "I would definitely feel comfortable going there. You've got to have a steady hand to throw a knuckleball, and also to do the work they do."
5. Ron Darling is anticipating a lot of wedding invitations. The Mets announcer described himself as "joyous" and "excited" upon hearing the news that same-sex marriage had been legalized in New York State. "I immediately called my wife as soon as I heard," he told the Daily News, adding, "I can't wait to hear if my friends are going to take the plunge, and I'm anticipating going to many marriages." That said, one Mets player estimated that the clubhouse was "split 50-50" on the issue. Said one Met, when asked why a team might not be willing to accept a gay teammate: "Most of us are still Neanderthals."
6. Alex Rodriguez is now giving effective pitching advice, apparently. After Boone Logan hit lefty Joey Votto with the only pitch he threw Monday night, A-Rod told Logan that Logan needed to enter the game with a plan and then stick to it. (Reported Jack Curry about their exchange: "Rodriguez did most of the talking, bouncing between counseling, encouraging and chiding Logan.") And since that conversation, Logan has thrown two and two thirds scoreless innings, and yesterday got two important outs, including a Todd Helton ground-out with the go-ahead runner on third in the top of the seventh. Rodriguez, by the way, has eleven hits in his last 22 at-bats despite playing with a sore knee, injured back on June 19 at Wrigley Field.
7. Phil Hughes is still a few rehab starts away from returning. Pitching for double-A Trenton on Friday, Hughes topped out at 93 mph on the stadium radar gun, though Brian Cashman said he hit 94 a couple of times. Hughes threw 72 pitches in just three and one third innings and struggled with his control. (He threw just six swing-and-miss strikes and, according to the News, didn't top 91 on the gun after the second inning.) So what does this mean for Hughes's return to the big-league club? Said Brian Cashman, who described Hughes's second rehab outing as "okay": "He probably needs a few more starts."
8. The Mets probably aren't trading K-Rod to the Yankees. Last week, Francisco Rodriguez said that if he was going to be traded, he'd be willing to serve as a setup man for "good teams like the Yankees or the Rays" for a couple of months. But via the Post, "a Mets official yesterday all but eliminated the possibility K-Rod could be dealt across town, citing the 'danger' of doing business with such a hated rival." The Yankees, of course, play in a different league than the Mets, so we imagine this "danger" is a PR one: If, say, the Yankees stole Rodriguez and he excelled in the Bronx, their fans would have to read about it in their hometown papers for the rest of the season. Still, that official didn't totally rule out a trade with the Yankees, putting the chances at "above zero percent."
9. Jose Reyes is still having an incredible season. Yesterday, Reyes went 4-for-5, including a triple, an RBI, a stolen base, and a key defensive play with the bases loaded in the first inning with two runs already in. That triple was his fourteenth of the season, six more than Shane Victorino (who has the second most in the majors), and more than twelve entire teams. By the way, All-Star voting — hint, hint — ends on Thursday.