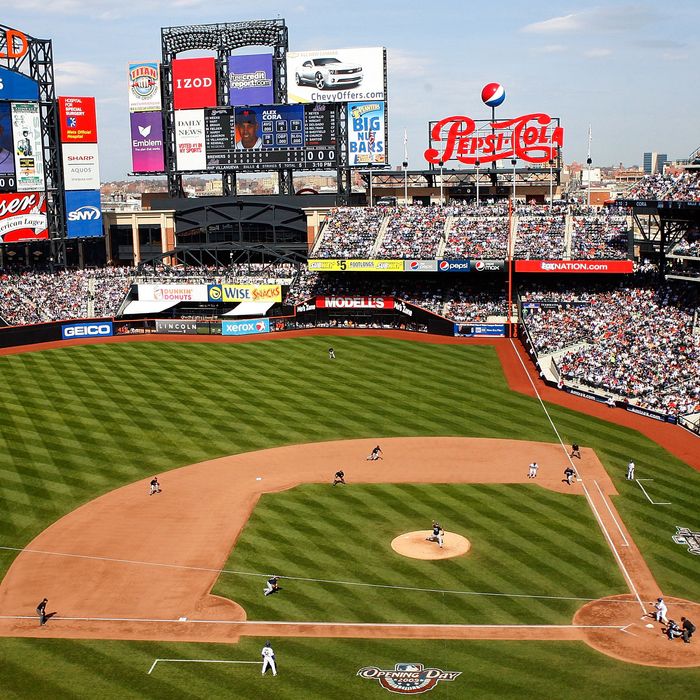 Photo: Jim McIsaac/2009 Getty Images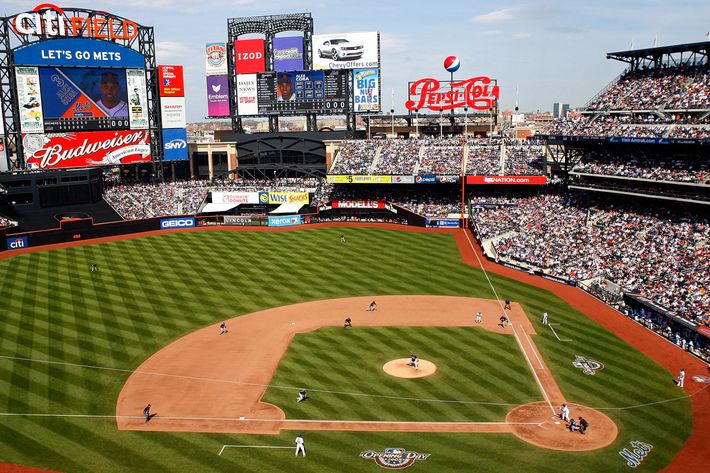 Another weekend of baseball is in the books — the Yankees won two of three in Anaheim, and the Mets won two of three against Atlanta — so what did we learn over the past couple of days? These nine things, for starters.
1. The Mets have begun to destroy their infield. We're talking about the actual infield at Citi Field, by the way. (What did you think we meant?) They're removing two thirds of the infield dirt in advance of tomorrow's Greece-Ecuador soccer match at the stadium, to be played on a regulation-size, all-grass field with one goal near third base and the other in right field. (Work was set to begin early this morning, just hours after last night's Mets-Braves game ended.) It might not be the last soccer match there this summer, either: Team vice-president Dave Howard tells the News that the Mets are close to securing another game that would pit club teams from Europe and South America against each other.
2. Fox Sports West would like to know why people don't like the Yankees. This is the network's actual poll question from Friday night's Yankees-Angels game: What do you dislike most the Yankees? The options: the city, the crazy money, the brash attitude, and the championships. Voting is still open, by the way. If you're curious, "the crazy money" is currently leading with 45 percent of the vote, followed by "the brash attitude" (36 percent), "the city" (11 percent), and "the championships" (7 percent).
3. Torii Hunter did not crush Yankees pitching this weekend, but did crush a Yankees fan. Torii Hunter went 0-for-12 against the Yankees this weekend, but the Angels right fielder made solid contact with at least one thing this weekend: a fan just beyond the right field wall, in an attempt to steal a home run away from Robinson Cano. The good news for the Yankees fans in attendance: Hunter didn't catch the ball. The bad news: Hunter landed on one of their own while trying to do so.
4. Sandy Alderson is telling jokes again. David Wright is expected to miss another three weeks — and that news came as a surprise to Sandy Alderson. (Apparently nothing has changed with Wright's condition, but there had been miscommunication between Alderson and team doctors about the timetable for Wright's return. The Mets medical staff, ladies and gentlemen.) Joked Alderson, who'd broken out some apocalypse humor just a couple weeks back: "Maybe we'll get David back for (Johan) Santana's first start."
5. Joba Chamberlain and Snoop Dogg posed for a picture this weekend. Kudos to ESPN Radio's Beto Duran for snapping this photo of the reliever and the rapper on the field, prior to yesterday's game at Angel Stadium of Anaheim. (According to Duran, Chamberlain and CC Sabathia left field passes for Snoop.) This meeting raises the following question: Is Joba awesome enough to qualify that photo for this Tumblr? Discuss.
6. John Sterling still insists on calling plays before they're done unfolding. Presented without comment, Sterling's call of Nick Swisher's eighth-inning home run yesterday: "There it goes to deep right! It's going to go foul. It's going to go foul down the line. And it is a home run!"
7. Baseball is still looking into Anthony Galea's treatment of Alex Rodriguez. A-Rod spoke with MLB investigators during spring training last year — he emphatically told them then Galea had never given him performance-enhancing drugs — but according to Michael S. Schmidt, the league hasn't taken his answers as fact and have been trying to obtain medical record kept by Galea about his treatment of the Yankees third baseman. Writes Schmidt: "To date, they have been unsuccessful despite the fact that Rodriguez has cleared the way for the records to be released, according to two people with knowledge of the request."
8. Nick Johnson is playing baseball again. You may remember Nick "Party in the U.S.A." Johnson from his two stints with the Yankees, but you're just as likely to know him from all the time he's spent on the disabled list in his career. Well, as of Friday, he's playing in real professional ballgames again, for Cleveland's AA affiliate in Akron. His stats for the weekend: one hit in five at-bats, three walks, and as far as we know, no injuries.
9. There's a place to wish Gary Carter well on the Internet. Via MetsBlog, that place is in the comments section at this page on the MLBlogs Network. It's currently at 542 comments and counting.