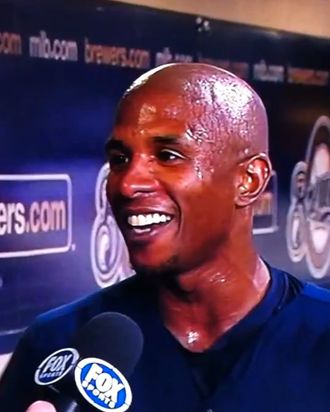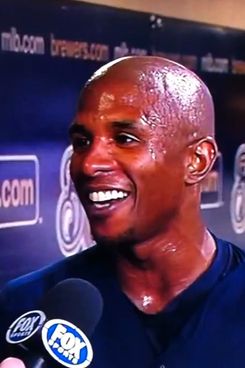 There's a post about Jose Reyes on the Daily News Mets blog today, in which Reyes talks about how he used to be "edgy" when he batted late in games: He'd want a big hit so bad, the story goes, he'd swing at pitches he should have taken. But he says he's calmer this year, crediting both his good health and hitting coach Dave Hudgens, who's taught him to lay off high strikes and pitches in the dirt. So that's one way to develop a good approach at the plate, even in, say, a tense situation in the ninth inning of a game. Another, meanwhile, would be to not even know it's the ninth inning — which is what happened with Milwaukee's Nyjer Morgan last night.
Morgan's double off Dale Thayer plated the winning run for Milwaukee against the Mets last night — but Morgan didn't know he'd ended the game: He thought it was only the eighth inning. (Perhaps someone should introduce Morgan to Nick Folk; they could trade I-didn't-know-I'd-won-the-game stories.) Anyway, from the Milwaukee Journal Sentinel:

"It's probably a good thing that I thought it was the bottom of the eighth because I didn't feel as much pressure," said Morgan. "I guess it worked out as a good thing for us.

"I got to second and I looked back and saw the boys running out. That shows what we have here is something special. We didn't give up. We picked our pitchers up just like they're going to pick us up."
The Mets had scored five times in the eighth to turn a 2–1 deficit into a 6–2 lead. But the bullpen couldn't hold it: Milwaukee answered back with four runs in the bottom of that inning before Morgan won the game in the ninth.
Here, by the way, is Morgan's post-game TV interview. You really must watch it:
Morgan didn't know he won game [Milwaukee Journal Sentinel]
Nyjer Morgan doesn't realize it's 9th inning until he wins game [Big League Stew/Yahoo]