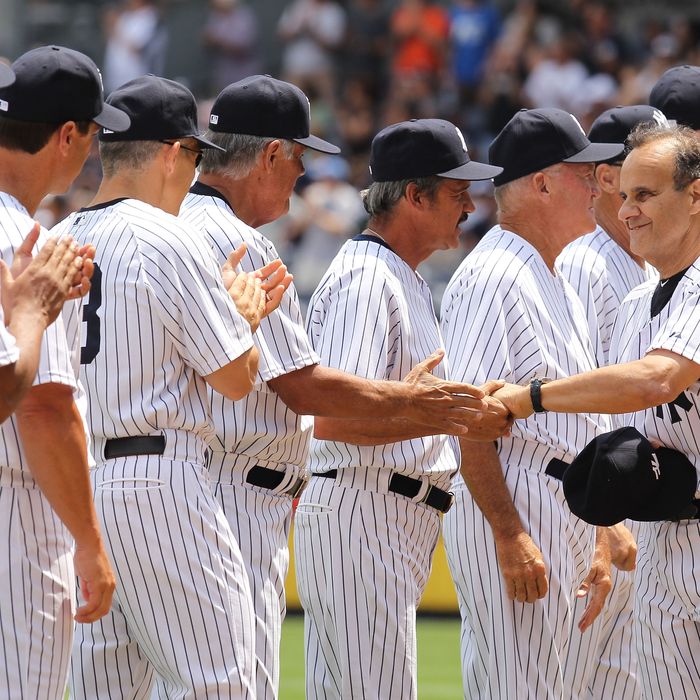 Photo: Al Bello/2011 Getty Images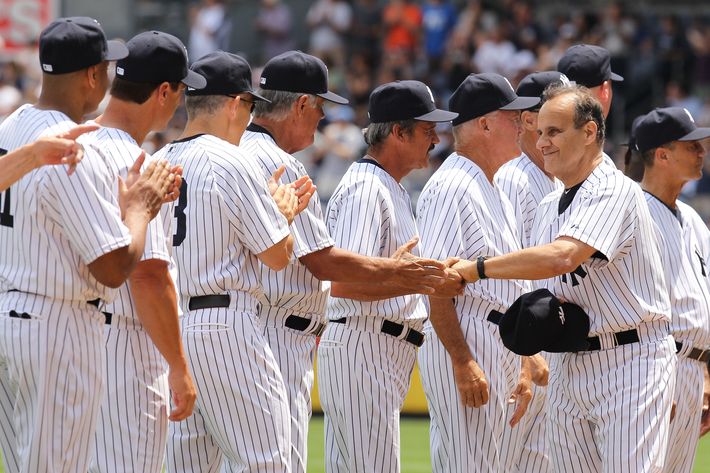 As far as Yankees Old-Timers' Days go, yesterday was a pretty great one: Joe Torre and Bernie Williams made their first Old-Timers' appearances (Torre got a lengthy ovation, but Bernie's was louder); the day featured a nice ceremony for retiring trainer Gene Monahan (gifts included a tour of Italy and a truck); and even the game itself — usually little more than a chance to see which old-timer can take the longest to run to first on a base hit — featured a bona fide highlight: Tino Martinez homering off of David Cone to plate the game's only two runs.
These events tend to follow something of a formula: lesser players on the third-base side (welcome back, Brian Boehringer!); more important Yankees on the first-base side (this year, David Wells was the first old-timer to line up on the baseline in front of the Yankees dugout); and Hall of Famers introduced last, along with the widows of some deceased former Yankees. But this year brought at least one change, something viewers at home wouldn't even have noticed. For the past decade, Keith Olbermann had provided color commentary, alongside Bob Wolff, of the Old-Timers' game for fans inside the stadium. This year, however, those duties went to Suzyn Waldman.
Why? According to the Post, the Yankees weren't happy with Olbermann for tweeting a photo earlier this season of a team employee signaling pitches from the stands and decided not to bring him back for this year's festivities. Here's part of Olbermann's response, from his blog on the MLBlogs Network:

I can't vouch for the legitimacy of the motive described in The Post because this is the first time I'm hearing about it. But on a macro level, that does worry me in terms of the suppression of information. I might have been sitting in the stands when I tweeted the photos in question, but I saw nothing that any eagle-eyed guy in the press box couldn't have seen (and trust me, they started looking). There was a coaches' assistant in a Yankee jacket and a Shamwow-Seller's Headset with a radar gun sitting three rows back of home plate signalling pitch speeds to Alex Rodriguez and other Yankee players in the on-deck circle on Opening Day this year, and I took a picture of it, largely because to see the signals, Rodriguez had to basically look right over my head.
There's more in that post, if you're interested, about Olbermann's experience with the Yankee organization's attempts to "manage information." But all of that is just a footnote on what was really a fun Old-Timers' Day. (And that coming from someone who just a couple years ago wondered if the event had lost something.) The Yankees won the real ballgame that followed, by the way, keeping them atop the A.L. East standings, a half-game in front of Boston. That part of the day was fun, too.