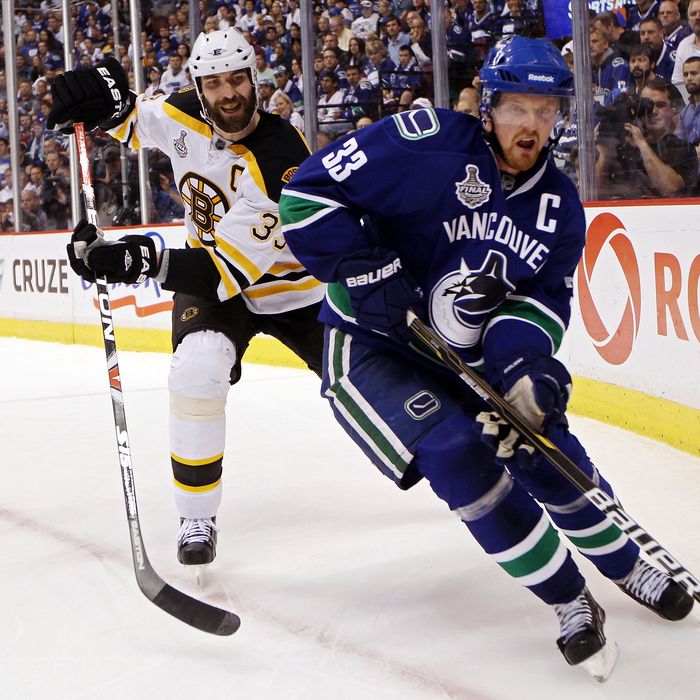 Photo: Bruce Bennett/2011 Getty Images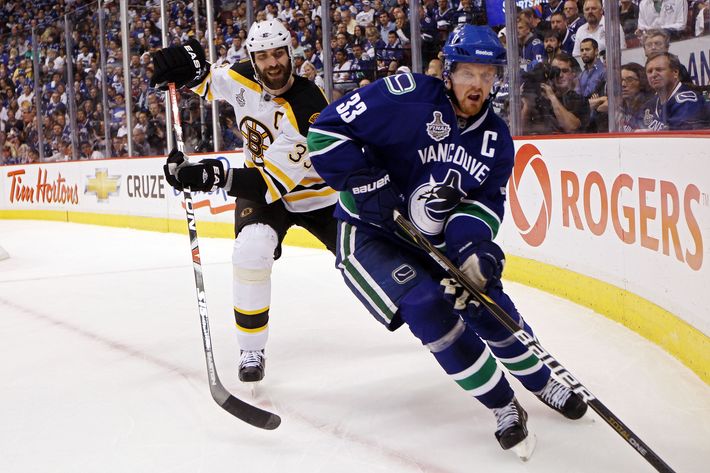 Not to suggest that any Game 7 is necessarily predictable, but it's particularly impossible to guess with much certainty what will happen in tonight's Canucks-Bruins game — the one that will determine which of the men pictured here will receive the Stanley Cup from Gary Bettman. We've already written about the bizarre, compelling nature of this Finals series — others have taken a harsher stance on the first six games — but that just makes tonight's Game 7 all the more intriguing. We truly don't know what to expect.
The differences between the games on the West Coast (all tight Vancouver wins) and the ones on the East Coast (all Bruins routs) have been well documented, as have the myriad reasons these teams have grown to dislike each other over the past few weeks (biting, scary injuries, etc.). It's made for good story lines, even if it hasn't produced the best hockey we've ever seen. We'd like to tell the casual sports fan tuning in tonight — the one who isn't opposed to watching a hockey game, but hasn't been paying much attention to these playoffs — that tonight's Game 7 will be NHL hockey at its best, but it's hard to do that knowing that one of tonight's goalies has been pulled twice in this series, and should have been pulled thrice. On the other hand, that goalie is a Vezina finalist this year, with two shutouts in this series. Like we said, predict how this plays out at your own risk.
Similarly, a look at Vancouver's pitiful goal differential in this series — and over the course of the whole postseason, for that matter — would indicate that they have no business being this close to a championship. Except that they earned home ice tonight because they had the best record in the league this season, and employ some of the most talented hockey players in the world, even if they haven't all shown up in this series. And we'll remind you again that they won three one-goal games in these Finals, all in the building in which they'll play tonight. Really, the only thing we can say with certainty is that this Game 7 recap — helpfully published in advance by the always-amusing Down Goes Brown — will turn out to be 100 percent correct. Don't worry, fans of Boston/Vancouver: Mark Messier's team can't dash your Stanley Cup dreams this time around.