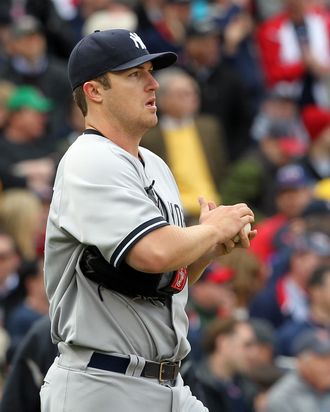 Photo: Jim Rogash/2011 Getty Images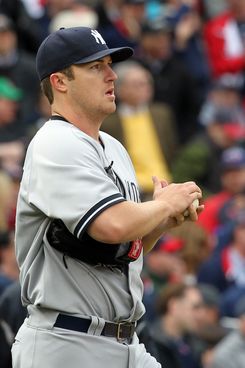 A-Rod had a good line yesterday, when asked about topping this year's Sports Illustrated player survey that selected the most overrated players in baseball. "I've been on this list many, many times, and I'm sure I'll be there again next summer," he said, adding, "I will say this — if this is the only thing we're talking about, we're doing good." Now, we'll note that this is not the only thing being talked about in Yankeeland these days — in fact, it's not the only A-Rod-related story in the news anymore — but we think we know what he means. This Yankees team is hardly a powerhouse — it's got some flaws, no doubt — but right now, this week, they're playing pretty well, sitting atop the tightly packed East division with the second-best record in the American League. (Needless to say, things could be worse.) This is the kind of story that Rodriguez — and Joba Chamberlain, who also made the list — can laugh about, even if a certain team captain can't quite bring himself to do the same.
Anyway, we're reminded of this current solid-if-imperfect state of the Yankees when reading updates about Phil Hughes, whose struggles and subsequent absence haven't exactly derailed their season. They'll be happy to get Hughes back, to be sure — or at least, they will if he resembles the pitcher he was in the early going last season — but to this point, the Yankees' rotation has been effective. If Freddy Garcia and Bartolo Colon had been busts — and going into the season, that was certainly a possibility — there'd be all kinds of urgency to get Hughes back. (Ivan Nova, too, has shown signs of promise.) Now, and for as long as the rotation keeps this up, they at least know they don't need to rush him.
Hughes won't return, according to Joe Girardi, until sometime in July, but that isn't quite as devastating as it might have sounded coming out of spring training. He threw a 50-pitch bullpen session yesterday and will throw to real-live humans on Saturday in batting practice. That's progress, we suppose.
Of course, this all depends on the rotation remaining a solid weapon. If one of their starters gets hurt, or if Bad A.J. Burnett returns for any extended period of time, or if Colon remembers that he's 38 and shouldn't be pitching this well — well, that would change things. But the rotation has been a surprise all season. Who knows what they're capable of?