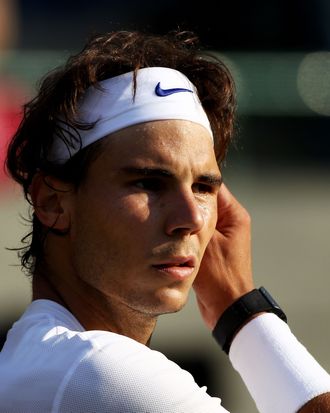 Photo: Clive Brunskill/2011 Getty Images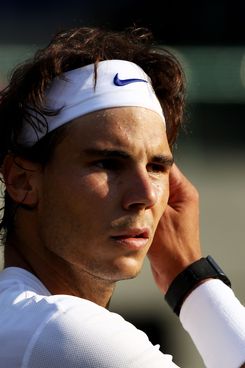 Rafael Nadal is in acute distress. He's just lost the game, he's facing a momentum-defining tiebreaker, and his opponent has his second wind. Rafa's just hit yet another impossible shot from an impossible angle, and one foot seems to have borne all the acrobatic brunt. He's in deep crouch, trying to gauge the extent and implications of the pain. Then he heads to his chair and calls for the trainer; the tiebreaker will have to wait; his opponent, oozing adrenaline, will have to cool his heels. After a tense interlude during which his opponent, visibly upset, remonstrates with the umpire to restart, Nadal returns, takes the tiebreaker, and romps. The press waits with bated breath to hear the results of the MRI — will he be able to carry on and defend his title? The results show nothing of any concern, and Nadal smashes his next opponent in four sets, fresh as a daisy.
As a counterpoint, consider a key moment in the most recent season of another Spanish juggernaut, soccer's FC Barcelona. They're in the midst of a crucial Champions League encounter they are expected to win, yet the game remains tensely poised, and Barça are potentially facing elimination from the sport's most prestigious competition. As if on cue, the Barcelona players respond by crumpling to the ground in operatic agony whenever they brush up against an opposing player; clutching their faces as if their eyes had been gouged out after a contested header; and gang-griping to the ref after any phantom infraction by the opposition. The collective pressure tells on the official, an irreplaceable player on the other side is soon sent off, and Barça go on to win not only the game but the entire tournament.
You can see where I'm going with this. (And perhaps see that I am a fan of Arsenal, Barcelona's opponent in that match.) Diving, the feigning of injury to accrue unfair advantage, is the ineradicable dark art that shadows the beautiful game. And whereas its most cynical exponents are invariably Italian, the Spanish have made great strides in incorporating it into their style of play, which, coincidentally or not, has been the most successful one of the past few years.
Is there an equivalent to the art of the dive in tennis? Soccer in Spain being the real unifying religion firing the nation's spiritual life, is it not reasonable to wonder whether its rites, rituals, and codes of conduct (or lack thereof) exert an influence in other national sports? The admittedly partisan description above involving Barcelona was of one match, yet it could just as easily have described any of the four clásicos they played against Real Madrid toward the end of this past season — that is, games of immense importance in which the blaugrana were up against the wall. Each time when the game threatened to get away from them, their default mode was to dive.

The account of Nadal seeking medical attention mid-match took place on Monday during his fourth-round victory over Juan Martin del Potro. After days of speculation about his injury, he dismissed Mardy Fish on Wednesday, telling reporters that he was using a heavy anesthetic to numb the pain.
Yet it also could have been, mutatis mutandis, from any number of recent episodes. Just last year at Wimbledon, in the third round, Nadal called for the trainer on numerous occasions en route to a bumpy five-set victory yet never appeared injured, a tactic his opponent characterized after the match as "pretty clever." He did the same thing to disrupt Federer's rhythm during the first set of this year's French Open final. In each instance the timing was impeccable, and unsportsmanlike.
Then there's the excessive time he routinely takes between points during his service games, the illegal coaching he routinely receives from his uncle/coach from the stands. If he's taken to task for such gamesmanship by the umpire, he appears genuinely offended and throws a tirade. I don't believe this is mere cynicism on Nadal's part. It is, rather, a confusing clash of codes. Being Spanish, he is a product of a sporting culture that exalts the opportunist and rewards him for his shrewd manipulation of the rules, within certain bounds. To be a great athlete, in this paradigm, is not incommensurate with exploiting every loophole.
Of course, everyone everywhere loves a winner, and unless you really push it (with, say, performance-enhancing drugs), we'll look the other way when it comes to how you went about your winning. But unlike in Spain and Italy, the American model of sportsmanship is more conflicted about cheating per se, no matter how artfully cloaked it may be. (To wit: the polarizing status of "floppers" like Reggie Miller in basketball.) Which is the real reason Americans can be queasy about soccer. But we've embraced Nadal, especially after his career-Grand Slam-cementing victory here in the U.S. Open last year, and with good reason: He is a great champion. He needs no trickery to win. Let's keep him honest.