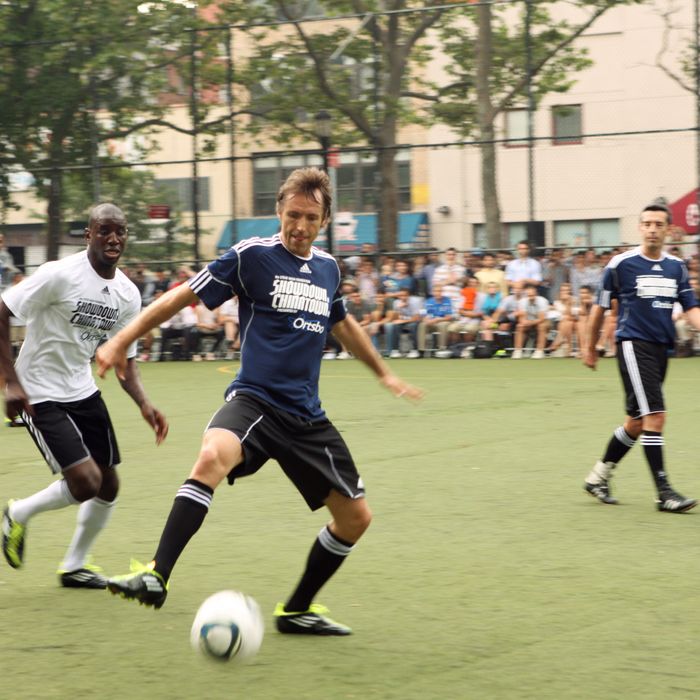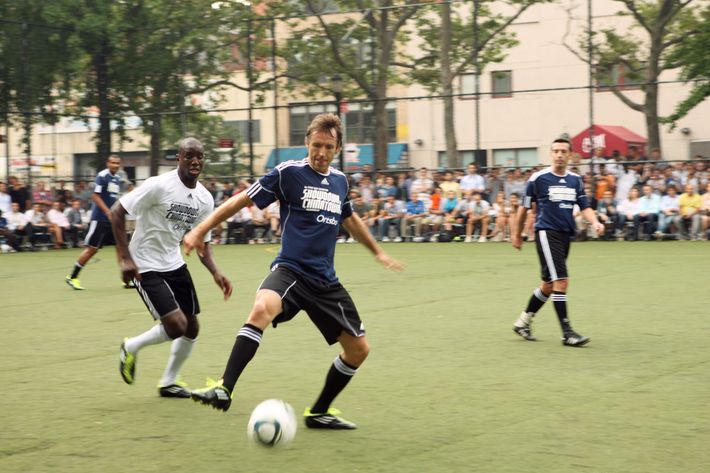 The name of the game was charity at the Steve Nash Foundation's fourth annual "Showdown in Chinatown" soccer game last night, where the real winners were, you know, the kids. Well, the kids and Nash's Blue team, which laid a rather uncharitable beating on a White team led by retired American soccer star Claudio Reyna.
The unlucky White goaltender was Nash's six-eleven Phoenix Suns teammate Marcin Gortat, who got rocked nonstop in a 16–10 mismatch that made an NBA All-Star game look like a defensive showcase. Worse, he was brought to the ground by a point blank shot on goal from Nash that appeared to catch the big fella where he fortunately seemed to have been wearing a cup. "Yeah, I felt bad about that one," Nash admitted after the game. "I said sorry."

Before the contest, Nash predicted the two squads would combine for eleven goals. He was right. But that was just the first half. The Blue team's winning effort was spearheaded by Jersey-born star Giueseppi Rossi (who plays for Villareal in the Spanish league and, controversially, for the Italian — not American — national team), who unofficially notched six goals. Nash felt no sympathy over the lopsided win. "Not at all," he said. "[The other team] had [Patrick] Vieira, who's won the World Cup [for France], [retired French star Youri] Djorkaef, the World Cup, Reyna, Demba Ba who just signed with Newcastle for $15 million, and Marcin, the seven footer, in goal." In addition to Rossi, Nash's victorious eight-man squad included his father, John, and NBA guards Leandro Barbosa of the Toronto Raptors (a native Brazilian) and Raja Bell of the Utah Jazz.
The second half and a sudden rainstorm started almost simultaneously, causing some in the crowd of 300-plus to scatter. Thirty-eight-year-old Suns forward Grant Hill didn't seem to mind, throwing himself into a row of seats going after a loose ball. Hill and Nash were both especially gung ho, seeming unconcerned about the possibility of injury. "Of course you don't want to get hurt, but sometimes if you play hard and you're more competitive, it's safer. If one guy is going semi-hard and another guy's not …" Nash said afterward.

Speaking of his future, two-time league MVP Nash says he hasn't given any thought to rumors the Suns might trade him before tonight's NBA draft. "I'm at a stage in my career where I'm pretty secure with what I do," admits Nash. "I don't follow basketball in the off-season so I'm the last to know about the rumors. My agent is great [at keeping calm about rumors]. He knows I don't give a shit."

San Antonio's Tony Parker, another point guard whose name keeps popping up in trade rumors, was a little less serene than Nash. The French native played cautiously despite a clear possession of soccer skill. Asked about the draft, he simply replied, "Of course I'll be paying attention."

Not present: NBA Finals MVP Dirk Nowitzki, who played with Nash in Dallas. "He's an amazing tennis player, but he's not a good soccer player," Nash said of Nowitzki. Also missing was former Nash teammate and current Knick Amar'e Stoudemire. Ever generous, Nash excused the big men for their absence on physiological grounds: "Soccer is played on the ground … It's a longer way from their eyes to their feet."