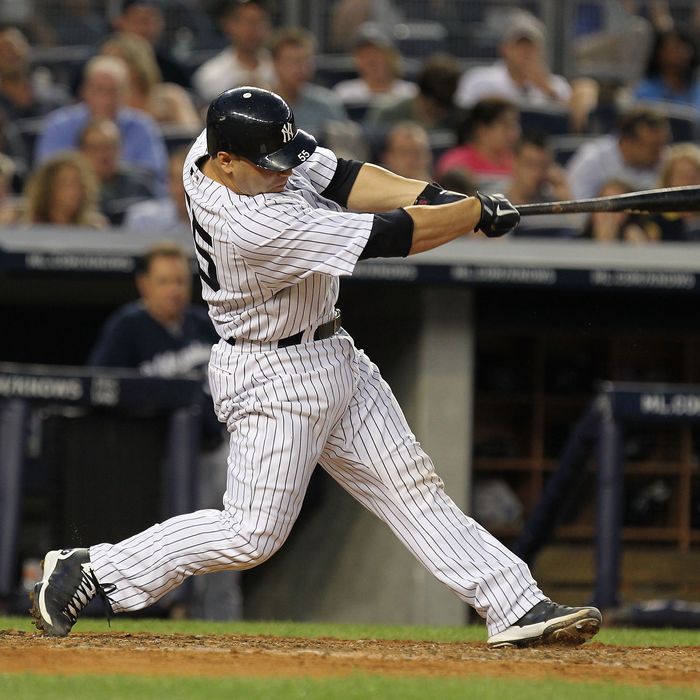 Photo: Al Bello/2011 Getty Images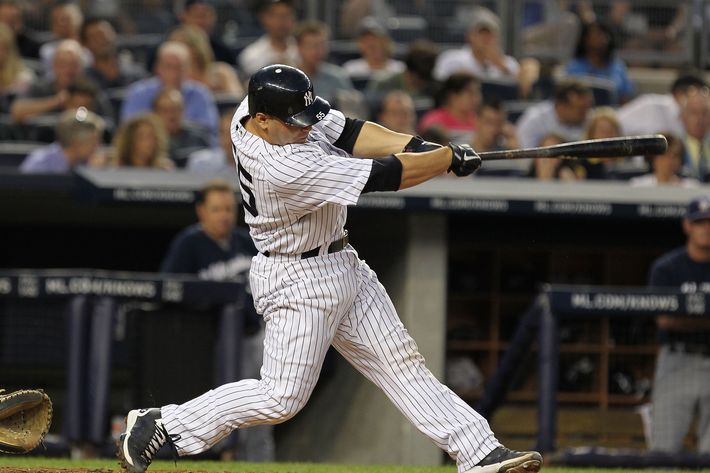 There's a good chance that when the All-Star voting ends tonight, Russell Martin will have more votes than any other American League catcher: In the most recent update on Tuesday, he led Detroit's Alex Avila by more than 400,000 votes. On the day voting began in April, Martin was batting .311 with six home runs. Since then, however, he's maintained the lead in the voting even as he's gone ice cold. And so consider his three-run homer last night — one that gave the Yankees a 4–1 fourth-inning lead — something of a final push for votes. That home run, after all, was his first extra base hit of any kind since May 24.
Of course, when a team is playing as well as the Yankees have been over the past few weeks, it can get by with a player slumping like that. Last night, they got seven sharp innings out of A.J. Burnett, who left the game to a nice ovation with no outs in the eighth after another Eduardo Nunez error. Meanwhile, Jorge Posada provided an insurance run with his ninth homer of the season, after which he trotted around the bases twice — once after being "tagged out" after the ump ruled the ball was in play, and again when replay showed the ball cleared the right-field fence and hit off a fan and back into the playing field. With one game left to go in June, by the way, Posada is hitting .391 for the month, with an OPS of 1.038. Not bad for a guy who hit .132 in April and .219 in May.
The Yankees would go on to win 5–2, and that makes four straight victories, eight out of ten, and fourteen out of eighteen. And coupled with Boston's second straight loss in Philadelphia and sixth loss in their last seven games, the Yankees now have a two-and-a-half-game lead in the A.L. East. (Interleague Play has not been kind to Boston: They're just 6–8 against National League teams this season.) Last night's victory also assures the Yankees of their sixth straight series win; they'll go for the sweep this afternoon when CC Sabathia faces the team he briefly pitched for back in 2008.