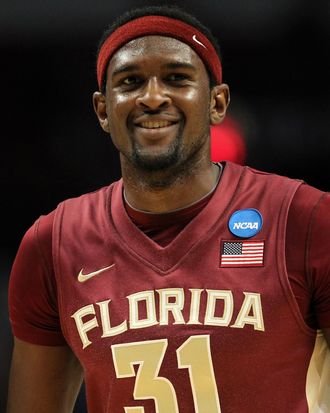 Photo: Jamie Squire/2011 Getty Images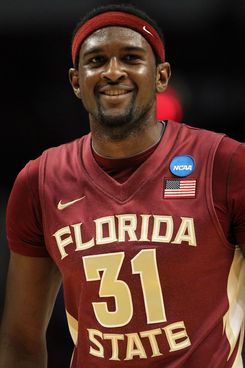 A month ago, we took a look at all the mock drafts, and whom everyone predicted the Knicks would take. With the draft just nine days away — plenty of tickets available! — it's probably time for another look.
First off, ESPN's Chad Ford, whom we are contractually obligated to point out, as always, once said, "Drafting [Landry] Fields is puzzling … New York may regret its decisions eventually." Last month he had the Knicks taking Kansas point guard Josh Selby … and he still feels that way, writing:

GM Donnie Walsh has lost his job, but he's still calling the shots for the Knicks on draft night. Expect Walsh to go out with a bang. The Knicks are essentially looking at five players right now — Klay Thompson, Fredette, Selby, Marshon Brooks and Kenneth Faried. Thompson and Fredette are off the board in our mock.

The Knicks have been looking long and hard at Selby for a while. They think he'd thrive in Mike D'Antoni's system that allows guards much more freedom than they get at Kansas. Selby has lottery talent, but a shaky résumé. This may be a risk taking him this high, but there's a very high upside.
All righty! So, who else?
NBADraft.net has the Knicks grabbing Chris Singleton out of Florida State. He broke his foot in February, but he's fine now. They call him "a small forward with terrific size and length for the position … He is an explosive leaper and has next level athleticism … Not a natural wing player, he is not very smooth with the ball and does not have the ballhandling skills which would allow him to create his shot with consistency." They even have a helpful video from Fox Sports:
Not bad!
David Aldridge from NBA.com thinks it'll be Markieff Morris of Kansas, but his colleague Scott Howard-Cooper agrees with NBADraft.net and goes with Singleton. Hoopsworld sticks with UCLA's Malcolm Lee, and everyone else we looked at last month is either bad about updating their mock drafts or is loath to change their minds.
With no second-round pick, this is the last move Donnie Walsh will ever make with the Knicks. Heck, maybe that is worth buying tickets for.