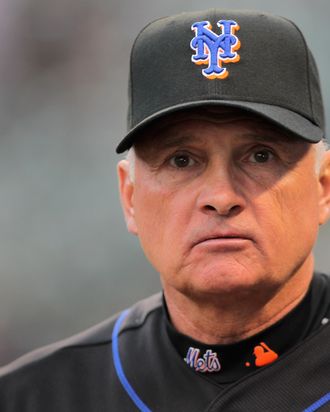 Photo: Doug Pensinger/2011 Getty Images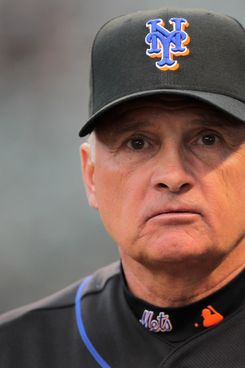 Terry Collins has always seemed like a strange manager to these particular New York Mets. It's not that he's a bad manager, or a bad guy, or a bad tipper or anything. It's just that he's one of those fire-'em-up managers, in the Larry Bowa mode, and while that's a decided contrast with Jerry Manuel, the man he replaced, it's not a personality trait that would seem to jive with this particular Mets team. That is: a team that's not all that good. Collins can yell all he wants, but he's not going to turn Willie Harris into a good hitter. Collins has a temper, and he's managing a team that is almost specifically designed to rile one's temper. This was an eruption waiting to happen.
And last night, it happened. The surprise is that it took this long. After the Mets lost a tough one at home to the Pirates last night, thanks largely to an imploding bullpen, Collins went off.

"I'm running out of ideas here," Collins seethed in a rambling, seven-minute diatribe after the Mets fell to 3-8 in 11 games since reaching the .500 mark May 20 against the Yankees. "I sit here every night trying to figure out what can we do to get us over the top. I don't have the answers. I'm searching. I'm wringing the rag dry coming in here and having to look at you guys and you look at me like I'm a stinking fool. I told these guys, we're good enough, but we have to go and play the game right. We just can't continue to make foolish mistakes."
Okay, so maybe you just need to watch it. He was totally mad.
You think he's mad now? Wait until they trade David Wright, Jose Reyes, and Carlos Beltran. Hiring managers like Collins — kick-'em-in-the-pants guys who love to snort and cuss and stomp their feet — is a grand tradition in baseball, but it's usually reserved for teams that are talented but underachieving. That's not what this Mets team is, and it's certainly not what it's going to be over the next couple of years. Collins is going apeshit after two months. What is gonna happen to him by 2013? This is just to say: He's gonna run all the tread off those tires, quick.
Though it is nice, at least in a cathartic, hey-we-feel-the-same-way fashion, to see someone who cares, who is as frustrated watching the Mets as their fans are. As opposed to Jerry Manuel. Craig Calcaterra at the terrific Hardball Talk amusingly described the typical Manuel "tantrum" this morning.

"I'm running out of ideas here," Collins seethed in a rambling, seven-minute diatribe after the Mets fell to 3-8 in 11 games since reaching the .500 mark May 20 against the Yankees. "I sit here every night trying to figure out what can we do to get us over the top. I don't have the answers. I'm searching. I'm wringing the rag dry coming in here and having to look at you guys and you look at me like I'm a stinking fool. I told these guys, we're good enough, but we have to go and play the game right. We just can't continue to make foolish mistakes."