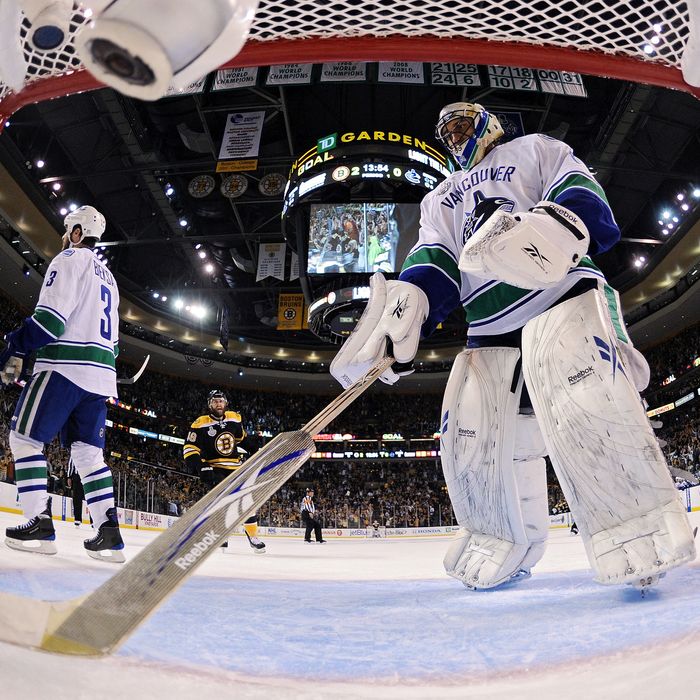 Photo: Elsa/2011 Getty Images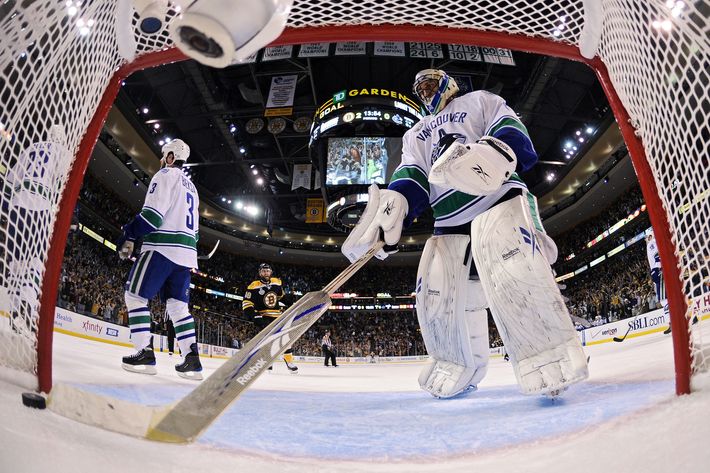 Roberto Luongo allowed eight goals in Game 3 of the Stanley Cup Finals, four more in Game 4 before getting pulled, and might have played his worst game of the series in last night's 5–2 Game 6 loss, surrendering three goals on eight shots in the first nine minutes of the first period. For the second time in three games — in the biggest series of his life — Luongo was pulled in favor of Cory Schneider, who has all of 28 career regular-season starts to his name. Tomorrow, Luongo will backstop the Canucks in the biggest game in franchise history. (The previous biggest game in franchise history happened seventeen years ago today, incidentally. Happy anniversary, Rangers fans.) And so you can forgive Canucks fans if they walk around with these expressions on their faces for the next 36 hours.
That said, Luongo is also the goalie who, in three games on home ice in this series, has allowed just two goals. (That's also the same ice, by the way, on which Luongo won a gold medal for his country last year in quite possibly the most important hockey game in Canadian history.) Yes, Luongo's defense has let him down at times in this series — and yes, the Canucks haven't generated much offense in this series — but there's a reason NESN is currently running a poll asking in which period Luongo will be pulled in Game 7. (Hey, remember when Boston's sports media believed in curses and jinxes? They're apparently over that.)
In any case, it's one final intriguing story line in a series that has had a few of them: Which Luongo will show up for Game 7? Generally speaking, a Game 7 in the Stanley Cup Finals doesn't require any additional story lines to make it one of the most exciting events in all of sports. But this has been such a bizarre series — the bad blood between the teams, the Canucks and Bruins both holding serve on home ice, the tight games on one coast and the blowouts on the other — that we really have no idea what to expect from tomorrow night's deciding game. Except that it will be played in front of a very loud, and very nervous, group of Vancouverites.