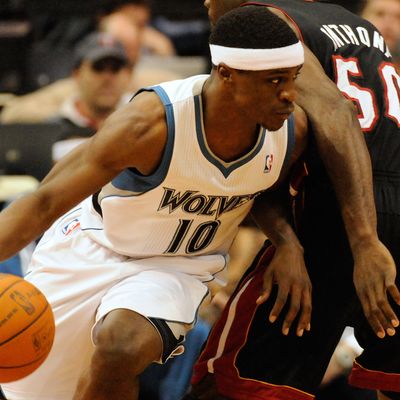 Photo: Hannah Foslien/2011 Getty Images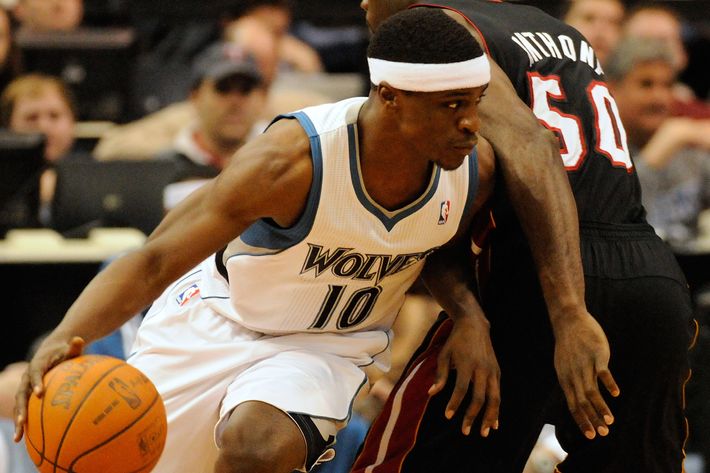 The NBA Draft is Thursday (in Newark!), and because this is Donnie Walsh's last draft, and because these are the Knicks, and the Knicks play in New York City, the wild Knicks Roster Reconstruction Rumors are flying around like, well, like birds, we guess. (We didn't think that analogy through all that closely.) In the last 24 hours, three big rumors have popped up, one of which is unlikely, one of which is insane (unless Isiah is in charge), and one of which is probably wishful thinking. Let's hit each!
To the rumors!
1. The Knicks are trying to trade for Minnesota's Jonny Flynn. Daily News rabble-rouser Frank Isola had this one yesterday. Right now the teams are just in "deep talks" — by "deep talks," we assume that Donnie Walsh and David Kahn are debating whether or not Immanuel Kant's Faculty of Understanding allows for objective reasoning outside of one's perspective on the imperative — about the Wolves sending Flynn to the Knicks for Toney Douglas. (The Knicks would probably have to send somebody else to make the salaries work, likely Renaldo Balkman.)
The Knicks Blog likes this deal, but we're not so sure. Douglas's playmaking flaws were apparent in the Celtics series, but he's still a versatile defender and a streaky, potentially lethal scorer. On a team that isn't relying on Jared Jeffries for post scoring, he could be an ideal sixth-man Ben Gordon–scorer type. Flynn, on the other hand, has been nothing but a disappointment for the Wolves in two seasons. Last year was a particularly rough one; he never quite recovered from hip surgery and spent a large part of the year in the D-League. That said: He went to Syracuse.
We know the Knicks are desperate for a Point Guard of the Future. And maybe Jonny Flynn is still capable of being that guy. But if he's not — and he hasn't shown anything to make anyone believe he has since he showed up in the NBA — the Knicks will have given up one of their few productive supporting players for … a guy you don't trust to back up Chauncey Billups. We're not sold.
2. The Knicks want to draft Bismack Biyombo. It would be freaking fantastic to have a guy on the team named Bismack Biyombo. The 18-year-old prospect from the Congo — there are questions whether or not he's actually 18 — has some people a-droolin'. Some fun facts from NBA.com's scouting report:

Cool statistic:
Recorded the first triple-double in the history of the Nike Hoop Summit, scoring 12 points with 11 rebounds and 10 blocks in the April, 2011 event.

Reminds me of:
A cross between Ben Wallace and Serge Ibaka

What Insiders Say:
Roy Rana, head coach World Select Team, 2011 Nike Hoop Summit
"Bismack does so many spectacular things. He's a phenomenal talent."

NBA Scout:
"His effort, heart, shot-blocking, offensive rebounding and attempt at leadership were big. Very raw though."
He also claimed in an interview that he will lead the NBA in blocks and rebounds someday. Handy stats, those!
Problem is, the rest of the league has been Bismack-ed as well: It's unlikely Biyombo will last until the Knicks' pick at No. 17. ESPN's Chad Ford has him going No. 11 to Golden State, and NBA.com's David Aldridge says No. 10 to Milwaukee. The only places we could find that had Biyombo falling that far were Hoopsworld, which has the Knicks drafting him, and NBADraft.net, which has him No. 21 to Portland. Or the Knicks could trade up to get him, though we don't know what they even have left to trade.
But keep an eye on Bismack.
3. The Knicks might have interest in Vince Carter. Hoo boy. The Suns are about to buy out Carter's contract, making him a free agent. The Knicks need a No. 2 guard, and Carter was once a "superstar" and … man, we love the Knicks, but we're totally not ready to start cheering for Vince Carter.
We'll say this: If the Knicks sign Vince Carter, we'll never be convinced that Isiah Thomas isn't secretly in charge again.