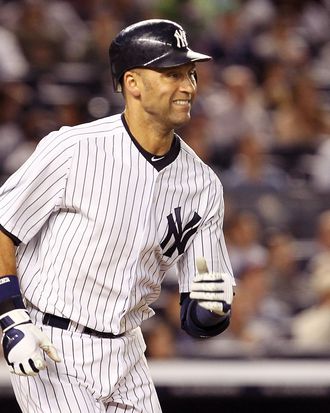 Photo: Jim McIsaac/2011 Getty Images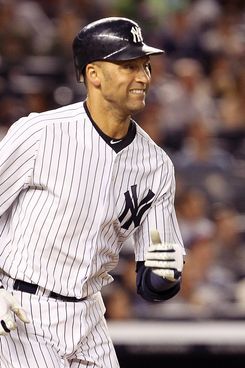 Right around the time Derek Jeter led off the bottom of the first with his 2,994th hit last night, a post went up on the Times baseball blog about how tickets to Thursday's Yankees-Rangers game — the last one on the Yanks' current homestand — are selling for something of a premium on the secondary market. Yankees fans hoping to see Jeter collect his 3,000th hit presumably had pinpointed that game as his best chance to reach the milestone at home. Indeed, for weeks now, foolish bloggers have been trying to project when Jeter would get to 3,000, and while doing it this weekend at Wrigley seemed most likely, a big game or two would have allowed Jeter to get No. 3,000 at Yankee Stadium. But, as a certain Yankee announcer might say, you can't really predict baseball, can you?
Jeter left last night's game after flying out in the fifth inning — he could be seen grimacing as he left the batter's box and limping as he walked toward the dugout — and was diagnosed with a Grade 1 calf strain. (That's the mildest grade.) The team will determine his status today, but a trip to the DL is possible and would mean Jeter would be out until at least June 29, at home against Milwaukee — the middle game of a three-game series that precedes visits to Citi Field and Cleveland. As Hardball Talk points out this morning, Jeter getting diagnosed with a Grade 1 calf strain — even as he approaches 3,000 hits — is hardly the stuff of tragedy. But at the very least, it looks like this will postpone the chase for 3,000, even if just by a matter of days.
The Yankees lost that game last night, by the way, wasting the return of Good A.J. Burnett in a 1–0 defeat. We'll find out today if they lost their captain as well, and more importantly, for how long.