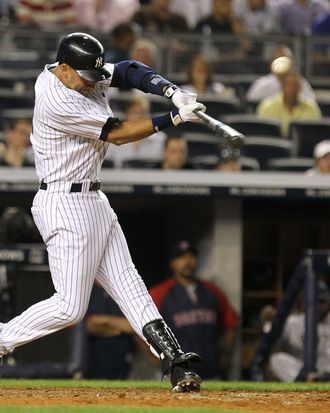 Photo: Al Bello/2011 Getty Images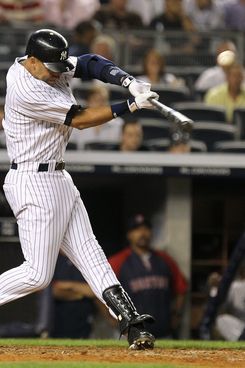 Once a week until Derek Jeter gets his 3,000th hit, we'll take a quick and dirty look at which game we anticipate he'll get it in, based on his 2011 numbers to that point. Obviously, buy tickets (or fly to some random city) at your own risk, especially since a lot can change in the coming weeks: Jeter could get hotter or colder, games could be rained out, he could get more frequent days off, or be dropped in the batting order, or get hurt (you know, again), or whatever. But just for fun …
Let's see, where were we?
• Jeter had 68 hits through the Yankees' first 64 games until he went on the disabled list on June 14, or 1.063 hits per team game.
• Jeter has 2,994 career hits and needs six more to get to 3,000.
• At this rate, it would take six team games to get there, once he returns to the lineup.
• Finally, there's a timetable for Jeter's return: He's scheduled to play in rehab games in Trenton on Saturday and Sunday, and he's set to rejoin the team Monday in Cleveland. If he played Monday, and remained in the lineup (either at short or as the designated hitter) every day until he reached the milestone, he'd get there on Saturday, July 9, at Yankees Stadium against the Rays. (Using his hits-per-game-played rate, by the way, yields the same projected date as his hits-per-team-game rate, which we'd been using to this point.)
Of course, that's assuming Jeter does play on Monday, and every day thereafter. And so between the possibility that he could return a bit later than currently expected, the possibility he'd get a day off somewhere in that first week back (the Yankees have no off days), and the possibility he'd have some rust to shake off in his first few at-bats, let's push that back a day to Sunday, July 9, also against the Rays. Worth noting: That game is the last one before the All-Star break, so if Jeter hasn't gotten his 3,000th hit before the end of the day Sunday, he'll have to wait until Thursday to resume the chase in Toronto. The Yankees, by the way, open the second half with eight straight road games.
Previous projections:
6/22: July 4, vs. the Indians
6/15: July 4, vs. the Indians
6/8: June 19, vs. the Cubs
6/1: June 18, vs. the Cubs
5/25: June 20, vs. the Reds
5/18: June 24, vs. the Rockies
5/11: June 17, vs. the Cubs
5/4: June 28, vs. the Brewers