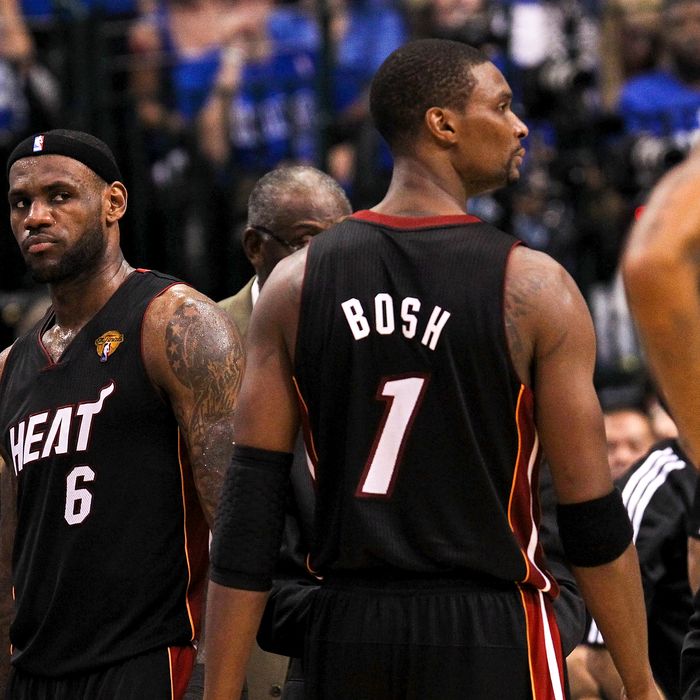 Photo: Ronald Martinez/2011 Getty Images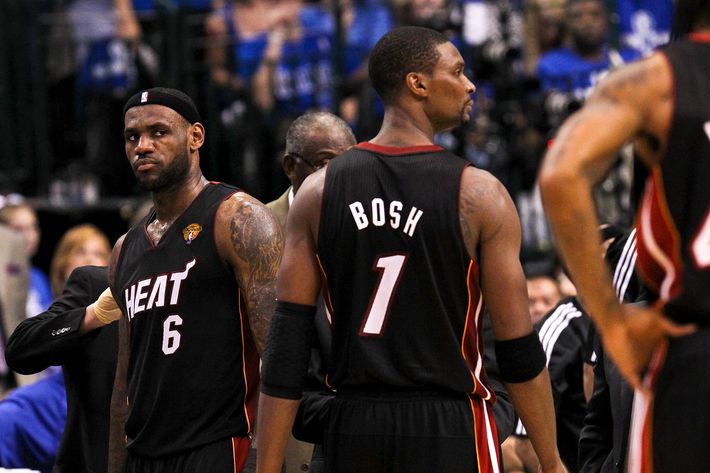 Legitimate question: Would you like to be LeBron James right now? There are a lot of positives, you know. You earn about $50 million a year, you're physically superior to just about every human on earth, and you even have your own cartoon. The downside? You notch a triple-double in a pivotal Game 5 of the NBA Finals … and for that, your team loses, you're blamed for it ("All hell crashed down upon James," wrote Yahoo's Adrian Wojnarowski), the entire sporting planet is cheering against you, and, just to top if off, everyone wonders if you're losing because Rashard Lewis is sleeping with your girlfriend. (Which we suppose is a step up from another player sleeping with your mom.) None of that sounds fun to us at all.
The Mavericks beat the Heat 112–103 last night to send Miami to the brink of elimination, in what was, honestly, one of the most enjoyable basketball games we've watched in our life. The Mavericks had one of those shooting nights that destroyed the Lakers, going 13-of-19 from three-point land, including some massive long-range shots from Jason Terry in the fourth quarter that put the game away. The Dallas crowd, in the last game they'll see their team play in person all year, was insane all evening, and we sort of imagine Mark Cuban still, at this second, pacing the halls of the American Airlines Center, punching walls and doing karate kicks in the air.
Dwyane Wade spent parts of the second and third quarters injured after a collision with Central Illinois's own Brian Cardinal, but he was back in the fourth and ended up with a team-high 23 points. As ESPN Stats and Info points out, the Heat's worst lineups were the ones with the Big Three all on the court together.
But no one's going to be talking about the other members of the Big Three. This is about LeBron. He is, in the words of ESPN's John Hollinger, good but not great, and the Heat need great. LeBron had a triple-double — a triple-double! — but he didn't take the game over, he didn't dominate it with his superior skills, he didn't grab the game by the skull and start doing unnatural things to it. This is what everyone wants from James. This is what is demanded of him.
He is capable of doing it; we've seen it before, in far less stressful situations than this one. But wasn't the point of going to Miami to avoid taking over games all by himself anymore? This is the curse of LeBron: When you are so much more talented than everyone else, and still you don't destroy everyone, you must be weak. You must be a loser.
Wojnarowski's terrific column lays down the stakes for Game 6 on Sunday night:

These days, he is a one-man, 24-hour news cycle. When James is done talking between games in these playoffs, half-baked reports on his personal life are flying and innocent bystanders are ducking shrapnel, forced to publicly deny cyber gossip. He's the deepest, darkest swirling vortex of insanity that modern sports has ever seen.

…

The next 72 hours promise to be the most torturous for James, because the world will keep closing on him, keep parsing and replaying and re-engaging everything about his Finals failures. He can't help himself, because so much of the way he sees himself, the way he built himself, was through the prism of this basketball "Truman Show."
Oh, and every morning-radio dope in the country is talking this morning about his girlfriend cheating on him, and how he's a choking fraud. Yeah … you know, that doesn't sound fun to us, at all.