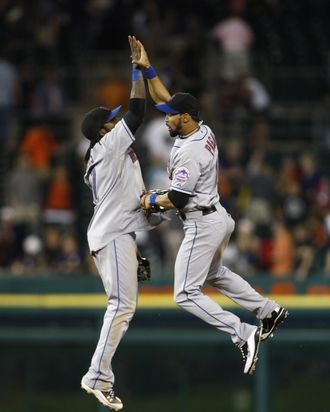 Photo: John Grieshop/2011 Getty Images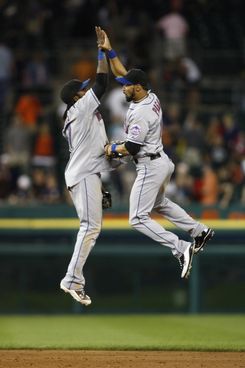 The Mets have won four straight games, but that kind of thing tends to happen over the course of a baseball season. But the offensive explosion that's powered those four victories? That's not so common. The Mets beat the Tigers last night, 16–9, a day after routing them 14–3. And those wins come on the heels of victories over Texas by the scores of 8–5 and 14–5. (These might as well be football scores, albeit in a league in which safeties and two-point conversions are unusually commonplace.) That's 52 runs in four games, and though they've had some impressive offensive stretches in their history, that's a new franchise record for a four-game span.
Every batter in the Mets lineup got a hit last night, seven of them had at least two hits, and two of them — Ronny Paulino and Angel Pagan — had four hits. (Jose Reyes, by the way, went 2-for-6 with a stolen base to keep his batting average at .349. We mention this only as a reminder that All-Star voting ends tonight.) After Pagan drove in the final two Mets runs in the top of the ninth, the Tigers brought in utility man Don Kelly to pitch. It was that kind of game. (Incidentally, Kelly — who retired the only batter he faced to end the ninth — was the only Tigers pitcher not to allow a run.)
That's six wins out of seven for the Mets, who improved to two games over .500. These ridiculous run totals won't last forever, but the more they win, the less anyone will feel the need to point out where they stand in relation to the .500 mark. Putting up a couple of touchdowns will be especially hard this afternoon, however: They'll face Justin Verlander and his 2.38 ERA in the series finale.