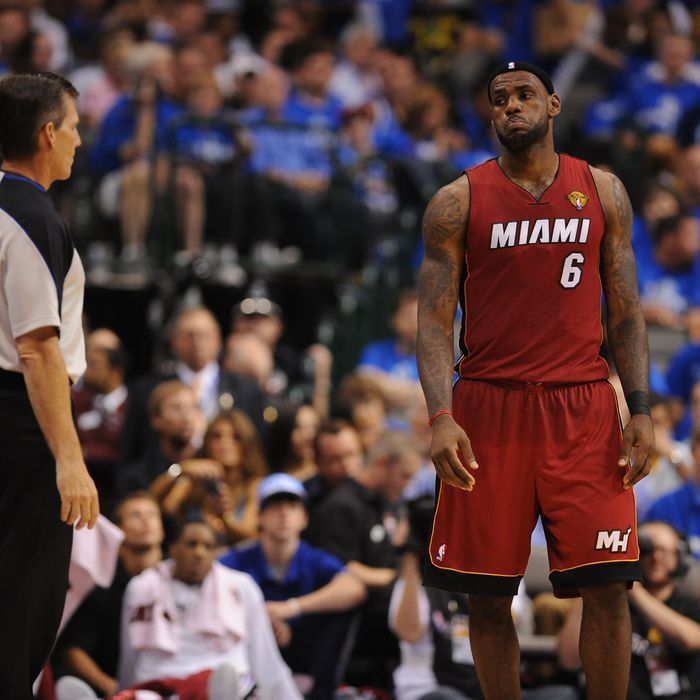 Photo: ROBYN BECK/2011 AFP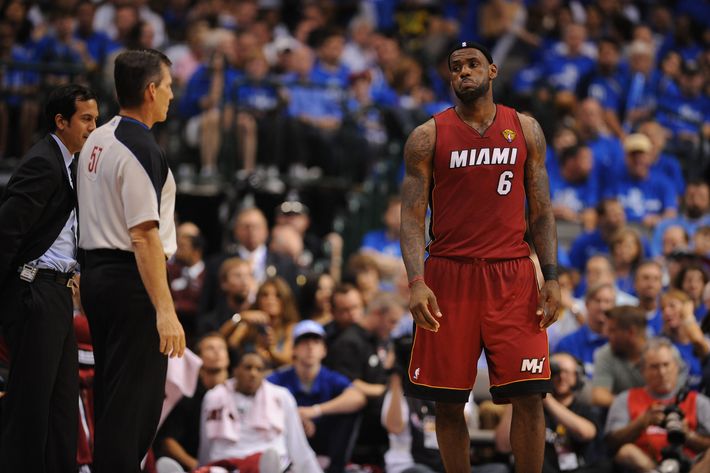 There is a temptation to say that LeBron James, whose Heat lost Game 4 of the NBA Finals to the Mavs last night 86–83 to tie the series 2–2, is in an unwinnable situation. When he attempts to take over the game in the fourth quarter, he is accused of stagnating the offense and trying too hard to be — All Together Now — "too much like Michael." (How joyous it must make Jordan, as massive a narcissist as sports have ever seen, to watch himself still dominating the conversation, thirteen years since his last title.) When LeBron tries to distribute to his fellow superstars late, he is accused of shrinking from the moment. Of course, one might respond to the "unwinnable situation" charge by pointing out that LeBron put himself in this position. One might also respond that a way out of the situation is to, you know, win.
LeBron had only eight points last night — here are Jordan's totals in NBA Finals games, by the way — but his real "crime" was being a peripheral player in the fourth quarter, as Dwyane Wade and Dirk Nowitzki battled back and forth while James lurked on the perimeter. Yahoo's Adrian Wojnarowski, on LeBron as ever, says LeBron's performance last night was the "worst playoff game of [LeBron's] life … all over again, this was James crumbling to the Boston Celtics in Game 5 of the Eastern Conference semifinals a year ago." We would say that was LeBron's worst playoff performance; he did have nine rebounds and seven assists last night, after all, and the series is only tied.
But it doesn't look good for LeBron right now. This series was always going to be about him, whether or not he — not Wade and Chris Bosh, not the Heat — would win his first title or not, whether he would step up and dominate, or he would fade. Last night, he faded, not because he didn't score enough, but because he couldn't control the fourth quarter offensively or defensively. One would think LeBron would rev up his game for Thursday's Game 5 … but everyone thought that last year going into the Eastern Conference semifinals Game 6 too. And that was unpleasant.
So: Game 5. Thursday night. Dirk Nowitzki, still somehow a supporting player in this drama despite arguably suffering longer and desiring a title more than LeBron ever has, despite playing transcendent basketball in these fourth quarters, needing a win for his Mavs to try to sneak one out in Miami. And LeBron James, with the planet watching every move, even when he might want to hide. This finals is getting great. How great? ESPN's Stats and Info noted that this is only the third finals ever to have three consecutive games end up within three points. The first two were in 1947 and 1948. If you haven't been watching these Finals yet, you best get started.