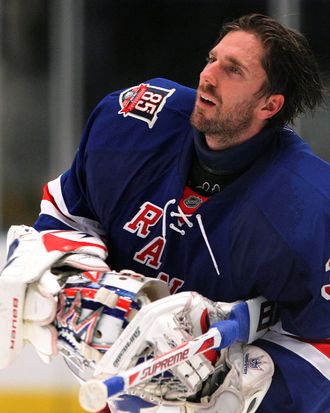 Photo: Bruce Bennett/2011 Getty Images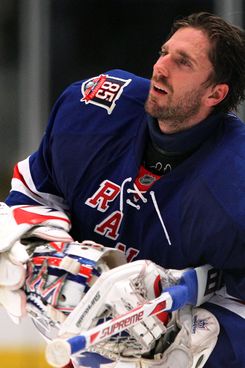 The 2011-12 NHL schedule was released today, and — as would be expected for a team whose arena is undergoing renovations and who will open the season overseas — the Rangers' slate of games has its fair share of quirks. Some highlights:
• We already knew that the Rangers would begin the season in Stockholm — they'll play the Kings on October 7 and the Ducks on October 8 — but it'll be nearly three more weeks until they play their first game at the partially renovated Madison Square Garden. After returning from Europe, they'll get a week off before playing the Islanders on October 15 at Nassau Coliseum. Then it's off to Vancouver, and from there they'll generally work their way back east through Canada before finally playing their first game at the Garden on October 27, against Toronto. (It'll be their eighth game overall, though we were sort of expecting something like this.)
• Once they're home, however, they'll stay there for a while: They'll play six straight games at the Garden between October 27 and November 6, and they actually have an even longer homestand in March, when they'll play seven straight in their own building.
• They'll play the newly relocated Winnipeg Whatever-They're-Calleds twice at home: on November 6, and again on January 24. They'll visit Winnipeg on October 24 and March 28.
• They do indeed play the Flyers on January 2 in Philadelphia, though the league still hasn't made the official announcement that it'll be the Winter Classic. (Here's the list it published today of schedule "highlights.") Still, plenty of outlets have already reported that this game will be played outdoors, and for those wondering if the Winter Classic will be played in prime time this year, we'll note that it's got a listed start time of 1 p.m. (A league spokesperson tells the AP that an announcement about the Winter Classic is expected soon.)
• Assuming the Rangers and Flyers will indeed battle in the Winter Classic, expect the 24/7 cameras to start following the Blueshirts sometime around their December 8 game against HBO-star-in-waiting John Tortorella's old squad, the Tampa Bay Lightning. They'll host the Flyers on December 23 — the same date, by the way, that the Caps hosted the Penguins last year in a preview of the 2011 outdoor game.
• And in case the season again comes down to the last game on the schedule in 2012 — as it has in the two previous seasons — we'll note that the Rangers finish up on Saturday, April 7, at home against Washington.