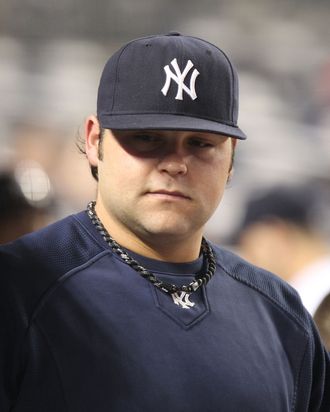 Photo: Nick Laham/2011 Getty Images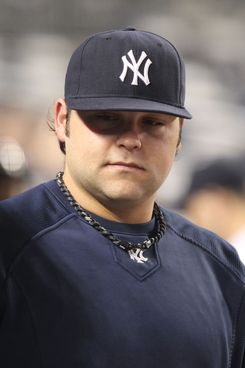 Has any New York athlete in recent memory burst onto the scene as quickly as Joba Chamberlain did in 2007? He started that season in single-A Tampa, advanced to double-A and triple-A in a matter of months, made his Yankees debut on August 7, and by the time the playoffs began, he was a bona fide phenomenon. Joba quickly became a fan favorite, not just for his filthy slider and his nearly flawless statistics — he allowed just one earned run in the regular season, finishing with a 0.38 ERA and a 0.750 WHIP in 24 innings — but for what he represented: The chance for the Yankees to develop a homegrown elite arm, instead of paying multimillions to lure one away from another team in mid-career.
The youngster with limitless potential is one of the most exciting things in sports — weaknesses haven't yet fully been exposed, and fans can envision cheering him for the next decade or more. Back in 2007, Joba was that type of pitcher: His fastball touched 100 miles per hour, and he could make hitters look downright foolish swinging at his splitter as it bounced in the dirt. Earlier in the season, the Yankees had made a splash by signing 44-year-old Roger Clemens, but it was the midwestern kid with the funny first name who truly captured the city's attention by season's end, celebrated in the tabloids and bars day after day through the team's post-season run, until he was finally undone in fittingly bizarre fashion, giving up a crucial ALDS run against Cleveland as midges buzzed around his head. Joba was such a sensation that year that even his father became something of a celebrity.
And then, just as quickly as he rose, Joba began to unravel — possibly even with the Yankees' help. Some form of the notorious Joba Rules, designed to protect his young arm, had been in place from the very beginning. The "Joba Rules," really, came to describe whatever limits the Yankees were imposing on him at any given time, be it keeping him from throwing on back-to-back days as a reliever, or limiting his total number of innings as a starter. With Joba now officially headed for season-ending Tommy John surgery, and no telling what kind of pitcher he'll return as in the middle of 2012, the effectiveness of those rules will be widely debated. (Brian Cashman, for the record, says he doesn't regret them at all. But Joba's father, Harlan, says that "looking back on it now, well … there's some reservations.")
The rules, if nothing else, were well intentioned. Still, it seemed like the Yankees never quite knew what to do with Joba. His first twenty appearances in 2008 came in relief. He made his first career start on June 3 of that season and pitched to a 2.76 ERA in twelve starts before getting hurt in Texas on August 4. He'd return to the bullpen in September, and in 2009, was given a spot in the rotation out of spring training. Again, the Yankees set an innings limit for Chamberlain, but as they tried to limit his innings, he became less and less effective, eventually pitching himself out of a spot in the playoff rotation. (They'd win the World Series that year by using a three-man rotation.) He was in contention for a starting job last season, but that final spot would go to Phil Hughes. Joba then returned to the bullpen, but eventually lost the eighth inning job to David Robertson. After the season, they'd give $35 million to Rafael Soriano to serve as the bridge to Mariano Rivera.
Someone who had once been so promising — the excitable kid who pumped his fists and sold who-knows-how-many "Joba Rules" T-shirts — had become a middle reliever. In that sense, it's not a surprise that Joba's name appeared on Sports Illustrated's player poll of the most overrated big leaguers. Middle relievers don't usually generate so much attention.
Joba's innocent image — the one of the exuberant, video-game loving kid whose wheelchair-bound dad still cheered him on from the stands whenever he could — didn't last long, either. His theatrics on the mound rubbed some people the wrong way, and in 2009, he suffered through the embarrassment of the release of details from his DUI arrest, during which he bizarrely poked fun at Yogi Berra. (He'd later call the Hall of Famer to tell him he meant no harm by his jokes about Berra's diminutive stature.)
The sadness of all this is that Joba had been having a very good season in 2011, pitching to a 2.83 ERA in 28 and two thirds innings. (Though he was mostly given full innings to pitch, ESPN's SweetSpot blog points out that he'd been effective on the handful of occasions he entered a game with runners on base, stranding eight out of ten of them.) On a team overloaded with aging players on the wrong side of their career arcs, Joba was a 25-year-old who appeared to be finding his place on the club — if fans had given up on him developing into the Next Great Yankees Pitcher, at least he was a player they could call their own.
Now, just as he was becoming an increasingly reliable contributor once again, he'll be lost for the year, and then some. Perhaps he never could have lived up to the expectations of 2007 — but it's a shame that a career full of fits and starts has now come to an abrupt stop. Fans could still cling to the possibility that once he knew his role — and no longer had to worry about Joba Rules or bouncing between the bullpen and rotation — he could reverse course and move closer to that rookie form, instead of further away from it. Now even those diminished expectations won't be met — at least not for a long time.