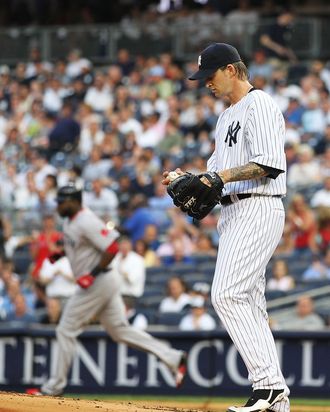 Photo: Al Bello/2011 Getty Images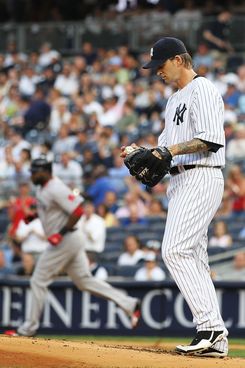 This week, for the second time this season, the Red Sox came into the Bronx and swept a three-game series from the Yankees. This time around, they got to Freddy Garcia on Tuesday, then to A.J. Burnett on Wednesday, and finally, to CC Sabathia in the wee hours this morning. And to make matters worse, the Yankees learned yesterday that Joba Chamberlain was likely headed for season-ending Tommy John surgery. Needless to say, this Yankees homestand is off to a pretty terrible start. But what happened this week that didn't involve a certain Red Sox fan/baseball-cap endorser saying that he doesn't actually hate the Yankees?
The Mavs took a 3–2 lead in the NBA Finals.
The Bruins evened up the Stanley Cup Finals at two games apiece.
The Mets won two out of three in Milwaukee.
Mets fans learned that if they want to bring a "Don't Trade Reyes" sign to Citi Field, it better meet all rules and regulations.
Plaxico Burress was released from prison.
We updated our Derek Jeter 3,000th-hit projection.
We met the Mets' and Yankees' top draft picks.
Amid reports that the Rangers will buy out Chris Drury's contract, we looked back on his first night as a Blueshirt.
We got ready for tomorrow's Belmont Stakes.
We looked at why Roger Federer is the "greatest ever."
And we spoke to Tommy Craggs and Tom Scocca about Deadspin, Grantland, and pink gorillas.
That's it for us. Have a great weekend.