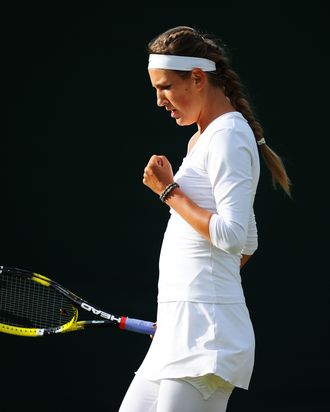 Photo: Clive Mason/2011 Getty Images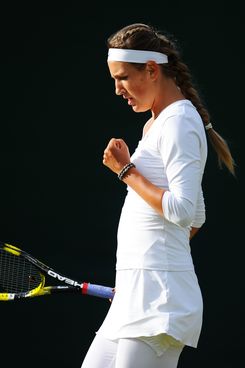 We're nearly into the first weekend at Wimbledon, about to leave behind the bleak Social Darwinian landscape of the very early rounds, in which the strong devour the starry-eyed and the only competitive entertainment comes from watching two guppies go at it for the dubious privilege of being Rafa's next victim. Now the seeded players, those pampered aristocrats of tennis bracketology, are starting to bump up against each other. That's right, it's the third round, baby! Oh yeah, it's ON.
So for those stalwarts spending their casual Friday sprawled on the couch in front of the TV straining to catch the koans of Brad Gilbert over the roar of the A/C, here's a potential third-rounder of interest on Day 5:
Daniela Hantuchova (25) vs. Victoria Azarenka (4): Two players struggling to define themselves by their play and not the distractions they bring in their train. Azarenka, whose keening vibrato, while a poignant counterpoint to the banshee shrieks of Sharapova et al., has made her the focus of the All England Club's anti-grunting grumbling, nevertheless appears on the verge of breaking through in a Slam. Hantuchova, for her part, has long suffered from a mild dose of Anna Kournikovitis, where your results never live up to your Slavic good looks. But that all changed when she shocked world No. 1 Caroline Wozniacki at the French Open this year, also in the third round, suggesting she might be primed for a late-career surge.
So there you have it: game, set, and subtext. They'll begin shortly on Centre Court, now that Feliciano Lopez has eliminated Andy Roddick in straight sets.