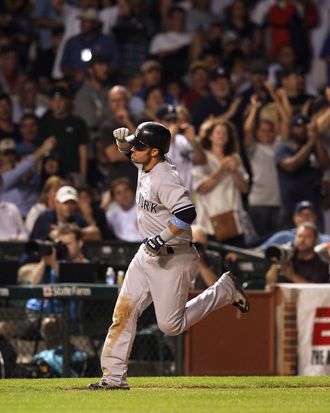 Photo: Jonathan Daniel/2011 Getty Images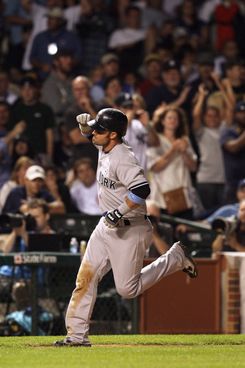 The Cubs set a record this weekend for their highest three-game series attendance ever, drawing 126,283 fans to Wrigley for their Interleague series with the Yankees. Indeed, even if the novelty of Interleague Play wore off long ago, a matchup of two historic franchises that rarely play each other — at a historic ballpark, no less — is enough to generate interest in a series even if one of those teams is well below .500 through 70 or so games.
But in between grainy video of Babe Ruth from the 1932 World Series and crisper footage of John Kruk on a rooftop across the street, they played some baseball games this weekend. And in last night's rubber game — a game that was tied through six innings — the Yankees beat up on the Cubs bullpen to take the series and move to a season-best twelve games over .500. It's their third straight series win and gives them eighth wins in their last ten games.
Nick Swisher's three-run homer in the eighth gave the Yankees the lead, and they'd extend it further in the ninth by opening the inning with four consecutive extra-base hits. (Wrigley's quirks were on display during this rally, between Teixeira's double into a right-field corner with virtually no foul territory to Alex Rodriguez's double to left center that just missed dropping into the basket atop the fence and then briefly looked like it would get stuck in the ivy on the wall.) Perhaps the biggest disappointment of the night: CC Sabathia and his mighty swing went 0-for-3, including a strikeout in a big spot in the sixth inning with two men on and the score tied at four.
Jeff Marquez would load the bases in the ninth before getting Alfonso Soriano to fly out to center, allowing Mariano Rivera to get the night off. Still, Rivera got his share of camera time late in the game, chatting with a young fan next to the Yankees bullpen during a break in action, before giving the kid a fist-bump and turning his attention back to the game.
The Yankees visit Cincinnati beginning tonight for another matchup between historic franchises — the Reds, after all, have been around since the Benjamin Harrison administration — albeit one that will take place in a less-than-historic venue.