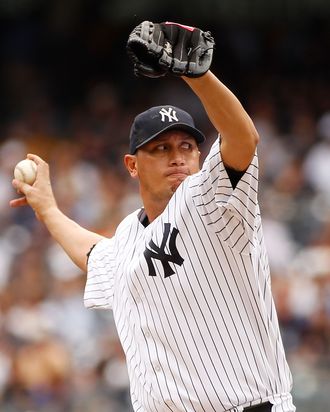 Photo: Mike Stobe/2011 Getty Images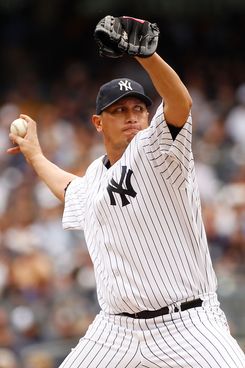 The Indians entered this weekend's series against the Yankees losers of five out of six and eleven out of fifteen. And so while Cleveland also entered the series atop the Central division — they're still in first place this morning actually, albeit barely — the Yankees certainly could have picked a worse opponent to rebound against after last week's series against Boston, one of the more discouraging series they've played all season.
The Yankees have won the first three games of that series against Cleveland, doing so with solid starting pitching and plenty of offense. A look at the standings indicates that the Yankees, at 36–27, have played pretty well this season in games that haven't involved the Red Sox. It's why, despite their ugly 1–8 record against Boston this season, they still can claim the second-best record in the American League and sit just two games behind the Red Sox team that's so thoroughly dominated them this season. Just when the Yankees seemed to hit a new low, they outscored Cleveland 24–8 in the first three games of this four-game set.
That said, those wins came with a loss: Bartolo Colon, who'd against all odds turned himself into this team's second-most-reliable starting pitcher, left Saturday's start with a hamstring injury. It's the kind of thing we've feared would happen with Colon, knowing what we do about how older starters tend to break down after missing as much time as he did. Colon's on the fifteen-day DL now with a strained left hamstring, and all things considered, it sounds like this could have been worse. Colon says he hopes to be back after the fifteen days, and considering the last week's big injury news, fifteen days is nothing. But whether he'll only miss the fifteen days — and whether he picks up right where he left off upon his return (he was throwing yet another gem on Saturday when he came up lame covering first) — remains to be seen.
The Yankees have won three straight games, nine out of thirteen, and like we said, have the second-best record in the American League. Still, this is a team that's already seen its intended eighth-inning reliever struggle and then go down with an injury, and then seen his replacement excel, then go down with an even more severe injury. It's a team that's seen Phil Hughes lose his velocity and spend much of the season on the DL and then seen his replacement in the rotation join him on the disabled list after he'd established himself as a vital part of the rotation. Perhaps it says something about this team that it's come to rely so much on Bartolo Colon — a man, you'll recall, who wasn't even supposed to be in this team's rotation — but that's the Yankees' reality these days, particularly with injury woes elsewhere on the pitching staff. One wonders how much more this team — the one with the second-best record in the American League — will be able to withstand.