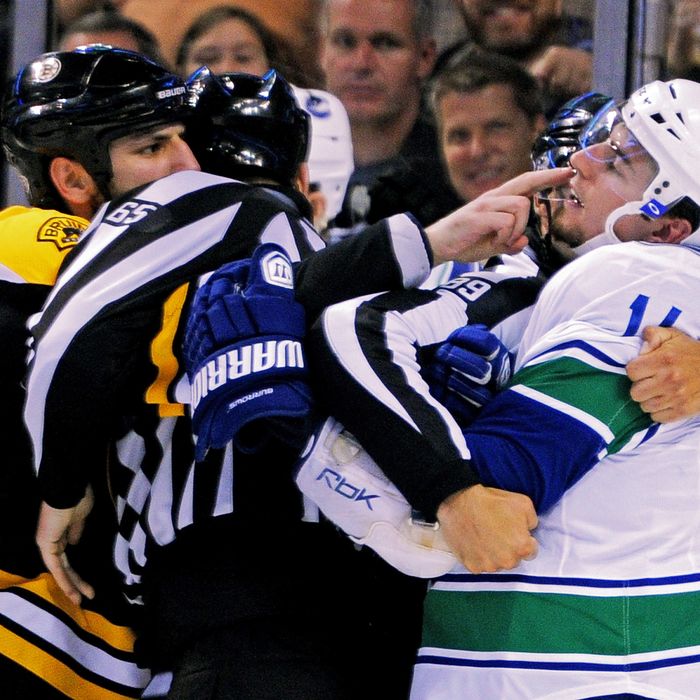 Photo: Harry How/2011 Getty Images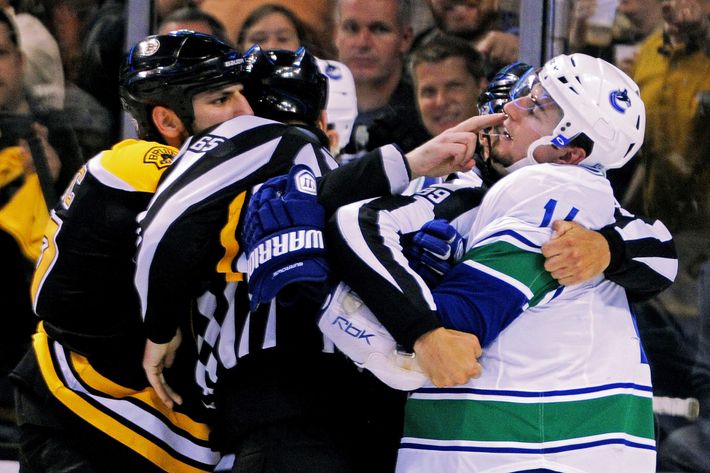 There was bad blood between the Canucks and Bruins before Game 3 even began, what with Alex Burrows's Bite Heard 'Round the Hockey World in Game 1, and Maxim Lapierre's finger-bite-related taunting in Game 2. But last night's Game 3 escalated things even further, and thanks to a Bruins rout, we've got ourselves a series — and a compelling one at that.
As if Boston needed any additional motivation, they watched in the first period as Nathan Horton was wheeled off the ice on a stretcher — the result of a late hit to the head by Vancouver's Aaron Rome. (Horton, for what it's worth, may have been admiring his own pass just a little too long, but that doesn't change the fact that the hit was late — hence the game misconduct for Rome.) It would hardly be the last misconduct penalty either: If ever a Finals game was destined to get out of hand, this was it.
The game itself was decided in the second period, when Boston scored four times to jump out to a comfortable 4–0 lead. Vancouver's defense looked tired, and the Bruins took advantage. (See Brad Marchand's ridiculous short-handed goal after a pass to himself off the boards, or David Krejci's goal some four minutes later on a long rebound that turned around the nearest Canucks defenseman.) And so with the game all but decided on the scoreboard, things would get chippy in the third, when referees doled out nine more misconduct penalties.
Highlights — or whatever you want to call them — included Milan Lucic taunting Burrows by pointing his bare finger in front of Burrows' mouth (this has become the go-to taunt in this series), Tim Thomas leveling Henrik Sedin in his goal crease, and Shawn Thornton throwing his stick in the tunnel and yelling back at the ice after receiving his own misconduct with 12:02 left in the game. (Worth noting: Bruins coach Claude Julian told both Lucic and Mark Recchi — who earlier in the game pointed a gloved finger at Lapierre's mouth — that he didn't approve of their taunts. Said Julian after the game: "I don't want that stuff in our game. I think we have to be better than that.") Things got so out of hand that in that third period, when Manny Malholtra unintentionally shot a puck into the Bruins bench and immediately apologized, his sportsmanship seemed almost out of place.
Boston would score four times in the third; the final three goals mostly blended together, in a bizarre three-minute stretch in which the Bruins scored on their final three shots. (When the final buzzer — or we guess in Boston's case, it's the final siren — sounded, the scoreboard read 8–1 Bruins.) This was pretty much a must-win game for Boston: 3–0 holes are not impossible to dig out of — the Bruins, after last season, are well aware of this fact — but the series could have effectively ended with a loss last night. Now, they're very much in the series, with Game 4 tomorrow night in Boston. These Finals have gotten interesting in ways we never could have predicted a week ago.