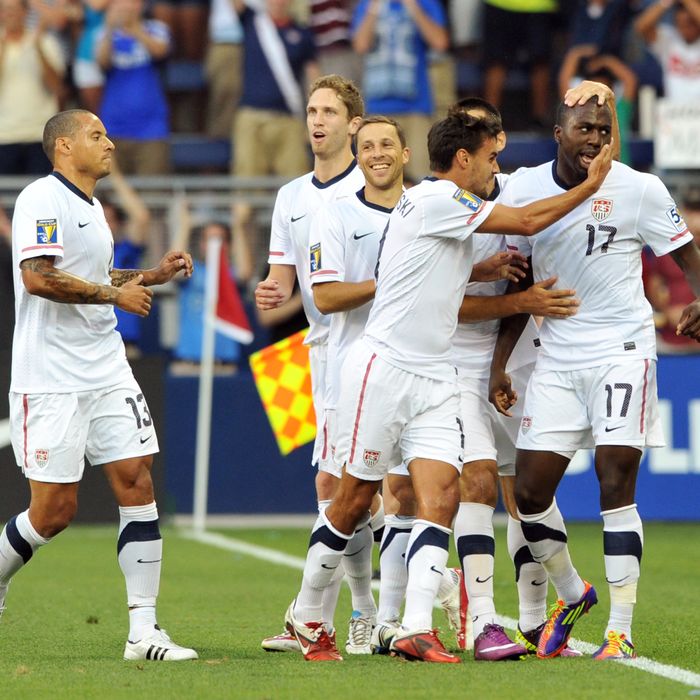 Photo: STAN HONDA/2011 AFP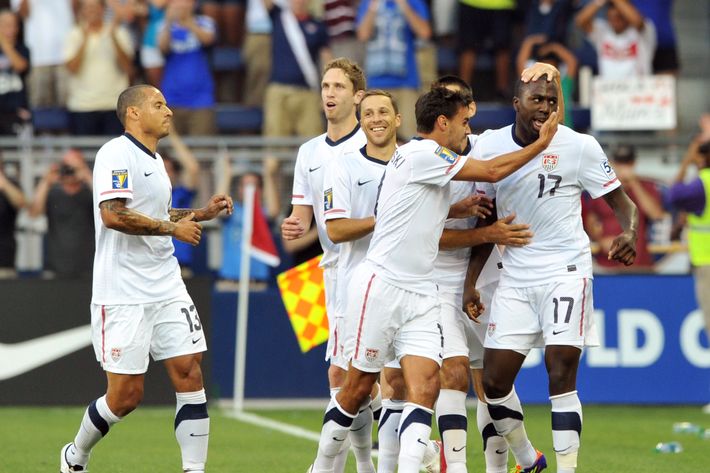 During the World Cup last year, one of the fun parts of cheering for the United States — other than the fact that YOU LOVE FREEDOM, of course — was that, for once, the U.S. was a clear underdog. We still have many years to catch up in the soccer world, so when the United States lost, it was in a "scrappy team on the rise" way, rather than a "lumbering empire collapsing under the weight of its own pretensions and arrogance" way. (You know, the way the actual empire is collapsing.) But in the CONCACAF Gold Cup, the U.S. is supposed to win, or at least roll over tiny little Caribbean nations that might secretly be 35 percent Michael Bloomberg vacation property. And it's not doing that.
Last night, USMNT edged past Guadeloupe 1–0 to advance to the quarterfinals of the Gold Cup, but it was ugly and unimpressive. Especially since Guadeloupe has fewer people than Staten Island. The energetic U.S. soccer team that looked so fresh and riotous just a year ago looked old, tired, and uninspired. Again.
Fortunately, this is the Gold Cup — which, remember, qualifies the winning team for the Confederations Cup in 2013 — and the first three rounds eliminate only four of the twelve nations involved. (Sorry, Guadeloupe, Grenada, Cuba, and Canada!) So the U.S. team advanced to the quarterfinals, where they will play Jamaica, currently undefeated in the Gold Cup, on Sunday at 3 p.m. in Washington, D.C., before Panama plays El Salvador.
If you're in the mood to go watch some soccer, you can hang out with those crazy Mexico fans in East Rutherford on Saturday; they play at New Giants Stadium against Guatemala; Costa Rica plays Honduras there as well. Lots of tickets left, if you're into that.
Were the U.S. to lose Sunday, it would be a crushing blow to U.S. soccer, though it probably wouldn't cost Bob Bradley his job, not just yet. (That's only going to happen if there is trouble with World Cup qualifying, which won't begin until February 2013.) But it'll be tough to deal with, for those of us trying to get back into this. Fortunately: Women's World Cup begins next week, and the U.S. is one of the favorites in that. That'll do.
Laugh all you want about this soccer stuff, but when there's no pro football or pro basketball next year, you'll be thanking us.