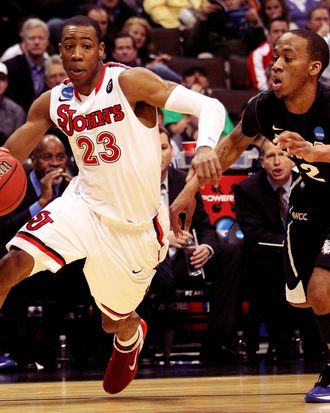 Photo: Justin Edmonds/2011 Getty Images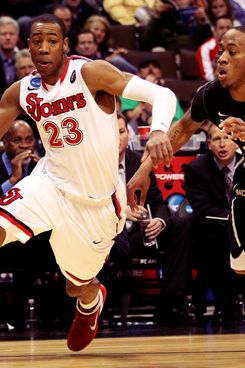 One nice aspect of the NBA Draft, which is Thursday night in Newark, is that nobody who wants to be drafted has to go to sleep wondering if they will be, unlike the NFL and MLB drafts. There are two rounds, and they'll both be Thursday. Either you show up at a press conference with your new team in a couple of days, or you sprint over to the D-League camps, ASAP. When your head hits the pillow, you'll know. There are going to be a lot of fellas from our NYC-area schools who are going to be watching the television awfully intent-like Thursday.
Specifically: three of the 45,238 seniors who graduated from Steve Lavin's St. John's squad. We've seen these guys play on our big College Hoops Road Trip a couple of years ago, but we are not scouts. Here's what the scouts say on the Red Storm prospects.
Dwight Hardy. He worked out for the Nets yesterday, but he's not kidding anybody: He's probably going overseas. He's ranked No. 96 on ESPN's Chad Ford's top 100 and is described as "undersize" and "already 23 years old." He has the best chance of any St. John's player of getting at least an extended tryout with an NBA team, but one shouldn't hold one's breath.
Paris Horne. Ford doesn't even have Horne ranked, so there's no way you'll see his name called. But he's warranting mention for tearing down the rim while dunking during a workout with the 76ers. That'll be Horne's one NBA highlight, but boy, what a good one.
D.J. Kennedy. It would be a nice story to see poor, doomed D.J. Kennedy, the spiritual leader of the team who never got to play in the NCAA Tournament because of a torn ACL in the Big East tourney, have his name called Thursday. But his No. 120 ranking in Ford's rankings won't help. He doesn't have the offensive game to play at the next level, but everyone will always love him anyway.
In other words: It's more likely you'll see one of Lavin's current recruits, the incoming ones, playing in the NBA in two years than you'll see these guys. Though we'd love to see Horne try to dunk down a rim at the Garden, regardless.