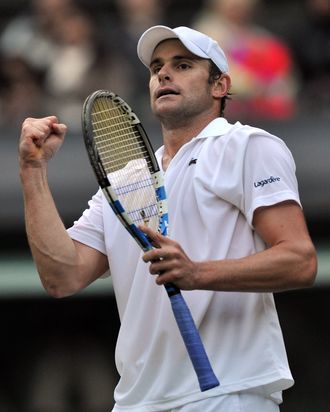 Photo: CARL DE SOUZA/2011 AFP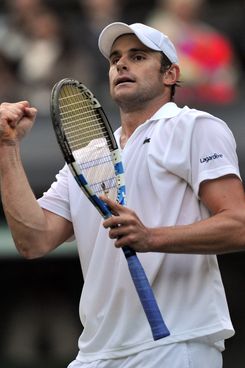 If ever there were a time to root for Andy Roddick, it's now. He's 28, midlife-crisis time in tennis years, and has been dogged by injury and illness, including a disabling bout with mononucleosis last year. He's thrice been Wimbledon runner-up, coming agonizingly close in 2009 in an epic five-setter against Federer. He's American — fuck yeah! — and still arguably the only such Yank on the men's side capable of winning a Grand Slam for the foreseeable future. (Thus far this year he's dispatched two unseeded opponents in straight sets; he faces the Spaniard Feliciano Lopez tomorrow.)
And yet I can't root for Roddick. Why? Is it his ridiculously, redundantly priapic surname? Well, he can't help that. Nor should I jealously begrudge him his swimsuit-model wife, his Sharapovan fling. And surely his manic habit of picking at the corners of his shirt between points like a junkie beset by imagined insects is less infuriating than Nadal's compulsive wedgie maintenance?
It used to be his game that galled me, but no longer. Watching Roddick dismantle Victor Hanescu in the second round yesterday, I noted how far he's come, how much his game has evolved. No longer a mere service-clubber who muddles through the drudgery of actual rallies, he's got a subtle all-court game: slick slices; tactical, time-biding forehands; thoroughly respectable net play. It may not be beautiful, it may lack grace, but it's not despisable, nor even dislikable.
I am reminded of another American who failed to capture my imagination: Andre Agassi. Agassi left me cold, even after his vaunted humanizing transformation from hair-metaller to bald serene sage. The grind of his attritional game wore me down as surely as it did his opponent. Agassi-orchestrated rallies had the metronomic sterility of gym reps, and it often seemed as if he didn't beat people so much as outlast them. That the presiding muse of his first great comeback was Brooke Shields … well, that didn't help.
But having read Open, his autobiography, I am riven with guilt: I was unjust to Andre. Not only was he that rarest of breeds, the thoughtful athlete, brooding throughout his career on questions of personal authenticity like the most searching existentialist; he also appears to have been, and to still be, a genuinely kind person, another rarity at that wattage of celebrity. Not that I noticed at the time.
Which brings me back to Roddick, with whom I'm at a potentially similar crossroads. Are we destined to fall back into the same dysfunctional relationship? Am I going to indulge the same reflexive sniping? I've already turned a corner in appreciating the game; all I need is a hook on which to hang appreciation of the man. Do you contain multitudes, Andy? Give me a reason, if not to love, at least to like.