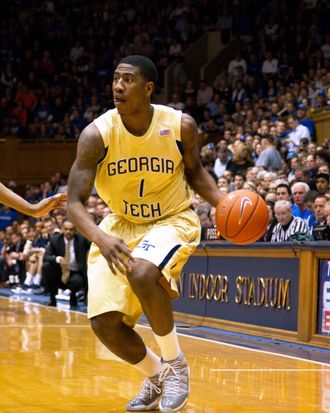 Photo: Peyton Williams/2011 Peyton Williams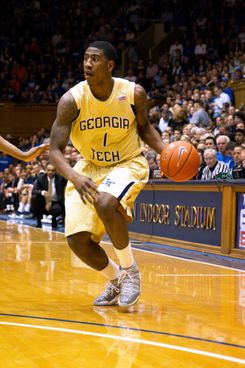 The 2011 NBA Draft is upon us. With a lockout imminent, this could be the last evening of basketball-related satisfaction we experience in quite some time, so relish it, y'all. The good news for Knicks fans is that this isn't one of those dreary years in which New York punts all of their high picks (the same can't be said for a couple years to come). They've got a nice, useful draft slot at seventeen and are rumored to be scrounging for at least one other pick. That said, this is sort of a modest draft class, and the mid-first round isn't likely to be star-studded. I imagine you have some questions. Let's get into it.
Who's going to be drafting for the Knicks?
Well, as with all of their decisions, the Knicks have a massive fellowship of dudes influencing the draft selection. A team including various vice-presidents and directors of things like Glen Grunwald, Jamie Matthews, Misho Ostarcevic, Kevin Wilson, Mark Hughes, Rodney Heard (yes, that Rodney Heard), Mark Warkentien, and a whole bunch of scouts are all working together to —
Nevermind. Is Donnie Walsh involved?
I was getting to that. The point is that any Knicks draft selection is governed by a whole bunch of people, but yes, Donnie Walsh will be prominently involved. This draft will be his last act as president of basketball operations before he steps down and cedes an interim position to Grunwald.
Well, should we be worried about that?
This question has come up before, and if you're unfamiliar with Walsh's ways, it's reasonable. One can picture a surlier executive departing grenadier-style: David Stern steps to the podium and announces, "With the seventeenth pick in the 2011 NBA Draft, the New York Knicks select … FREDERIC WEIS JR.!?," then the camera cuts to an old guy peeling out of the Prudential Center parking lot on a dirt bike, cackling all the while (somehow, you can hear the cackling above the din of the revving motor). Anyway, that's not going to happen. Walsh cares deeply about this team and would love to make this pick the flourish on his tenure as president.
Is the seventeenth pick a good pick?
Obviously, it's hit-or-miss. There's plenty of precedent for mining a gem at seventeen, though. Knicks Vision did a swell job of breaking down the last ten guys to go at seventeen, and the Knicks put together a nice li'l photo montage of their own. Josh Smith, Danny Granger, Jrue Holiday, and Roy Hibbert were all seventeenth picks. So, too, were Zarko Cabarkapa, Michael Bradley, and Cal Bowdler. Shawn Kemp was the seventeenth pick in 1989. The Knicks themselves took Jerrod Mustaf at that spot in 1990. Oddly enough, Walsh has some history at seventeen, having drafted both Granger and current Knick Shawne Williams at that spot in consecutive years. (Walsh also traded for and developed Jermaine O'Neal, who had previously been the seventeenth pick in 1996). Basically, it's possible to land a star at seventeen, or at least a starter. It's also possible to land Cal Bowdler. (Well, technically it isn't. Sources say he's no longer eligible.)
So, who's going to be gone before the Knicks pick?
Perhaps even more than usual, this year's draft order should be weird and unpredictable. Kyrie Irving and Derrick Williams are more than likely the first two picks, but things kind of open up after that. It's entirely possible that somebody will still be in the green room when New York is on the clock, but it's probably safe to assume that the following guys won't be available, barring some unforeseen transactin': Irving, Williams, Enes Kanter, Brandon Knight, and Kemba Walker. Those folks aren't going to be Knicks. Almost definitely.
What if the Knicks ask nicely?
You never know, really. What if Walsh called up Cleveland GM Chris Grant and was like, "Hey, listen. We really need Kyrie Irving. Can we have him?" Maybe he'd be sympathetic. I'm just saying. There's not enough precedent to dismiss that possibility.
With or without an earnest plea, some of the guys projected to go in the lottery interest the Knicks and have been in for workouts. Four particular names have surfaced a bunch: Jimmer Fredette, the divisive cult hero from BYU (and Glens Falls, New York), Chris Singleton, the defensively inclined forward from Florida State, Klay Thompson, the sharpshooting two-guard from Washington State, and Bismack Biyombo, the enigmatic and hyper-athletic big man from the Democratic Republic of Congo. All are likely to go before seventeen, but all have worked out in New York, and if one were to drop, the Knicks might be compelled to abandon their more natural targets and bite. There are, of course, a handful of other lottery-type friends who could drop, each of whom would give the New York front office pause, but the ones listed are those whose names have been most tied to the Knicks in the past few weeks.
What about trading up?

There have been rumors about trading up, previously for Fredette and more recently for Biyombo, but it would be difficult for New York to move up without dealing somebody like Landry Fields or Toney Douglas, and that's probably not worth it. With so few sure things in this draft and so few assets at New York's disposal, trading up seems unlikely. But again, draft night is bananas. Rule stuff out at your own peril. If the Knicks end the night with Jan Vesely, the Denver Broncos punt return team, and a pack of rainbow-colored hairnets, don't come crying back to me. Anything can happen.
Okay, then who are some more likely picks?
Well, I think we should clarify what it is the Knicks are looking for in a draft pick. Is that okay?
Yeah, fine. Hurry up.
Okay, I'd place prospective Knicks into one of three "types," created specially for this occasion.
Type 1: A big man that can defend, rebound, and generally leave room for Amar'e Stoudemire to do his thing while also covering his weaknesses (namely, defending and rebounding). Would be eligible for a starting spot in the frontcourt (preferably at center).
Type 2: A point guard, or something like it. Candidate must have four working limbs and a frontal lobe. Ability to defend or shoot is considered a plus, but isn't mandatory. Candidate must also be willing to back up Chauncey Billups and let Anthony Carter refer to him as "Baby."
Type 3: A wing with size who can score and maybe play some defense. Would probably back up Landry Fields, but you never know.
I'd wager that those are the three greatest areas of need, perhaps in that order. Are you ready for the list?
Yes. Only took you like a thousand words to get here.
Don't be petulant. It was for your own good, I swear. Okay, here they are organized by type and listed in the order in which Draft Express projects them to be taken. Projected top-ten picks and folks who have already been mentioned are not included.
Type 1:
Tristan Thompson. (6'9", 230 lbs., 20 years old, from Texas) This bro might not drop to seventeen, and the Knicks haven't bothered to work him out. That said, he's kind of big and is considered to be a decent defender and rebounder. Thompson hasn't been mentioned much in connection with the Knicks, but that could be because they confused him with Klay Thompson or Trey Thompkins or something and neglected his existence. I can't quite grasp why he's rated so highly, but that's without ever having seen him play.
Nikola Vucevic. (7'0", 260 lbs., 20 years old, from USC) Vucevic was once projected to be a second-rounder until combine measurements revealed exactly how enormous he is. (Maybe he grew? Maybe he's still growing? Maybe he'll be eight feet tall a year from today?) The Trojan, who hails originally from Montenegro, can't run very fast or jump very high, but he's a capable rebounder and interior defender with a remarkably diverse offensive game. Being one of the guys called back for a second workout on Monday generated a lot of buzz between him and the Knicks, and he'll probably be there at seventeen.
Markieff Morris. (6'10", 240 lbs., 21 years old, from Kansas) Believed to be the less desirable of the Morris twins, Markieff is still a pretty polished offensive player with size, athleticism, and solid college numbers. His apparent lack of back-to-the-basket moves and sub-huge size doesn't befit a traditional center, but we're talking about the Knicks here. If he concentrates on rebounding and defending a bit more than he did in college (which is plausible), he'll fit right in. It's a stretch, but if the Knicks draft him, I'll probably make "Return of the Mack" jokes.
Kenneth Faried. (6'8", 225 lbs., 21 years old, from Morehead St.) Like Morris and Thompson and pretty much everybody ever, Faried isn't built like a true center. He's got arms for days, though, and uses them to rebound with aplomb. The size, questionable collegiate pedigree, and middling offensive game might be deterrents, but one of the worst rebounding teams in the NBA last season (the Knicks, in case you forgot who we're talking about) must at least consider the most prolific rebounder in modern-era college basketball at seventeen. He'll probably be available, too.
Type 2:
Iman Shumpert. (6'6", 220 lbs., 20 years old, from Georgia Tech) Shumpert, who reportedly has a ton of support in New York's front office, is a combo guard, but not the typical kind. Most have point-guard size and shooting-guard skills. Shumpert definitely has shooting guard size — he's nearly as big as some of the "big men" listed above! — but isn't a very good shooter. He's preposterously quick and springy, though, and thrives on the defensive end. His passing skills are promising but are reportedly at odds with a tendency to make poor decisions. Pretty much every draft-related bromide you can think of applies here: "length," "potential," "high risk," "raw" … um … "basketball." Anyway, the Knicks like him and would probably want him to play point guard. He's certainly an intriguing bloke, and nobody questions his potential to have an awesome name.
Darius Morris. (6'5", 190 lbs., 20 years old, from Michigan) This is the other point guard the Knicks are supposed to love, though he's now ranked lower than Shumpert in most mock drafts. He's not nearly as athletic as Shumpert (nobody is), but he's nearly as big and is considered to be more of a "pure" point guard. Less risk, less reward, and stuff. Morris is expected to go much later than seventeen, but he's included here because the Knicks are supposed to be crushing on him pretty hard (no harder than they are with like a dozen other people, but still …).
Type 3:
Marshon Brooks. (6'5", 195 lbs., 22 years old, from Providence) I'm not actually of the opinion that the Knicks need another shooting guard, but their reported interest in Klay Thompson suggests that they think differently. They're also supposed to like Brooks, who was one of several to come back for a second workout. He's not the purest of shooters but has a whole quiver of offensive skills honed in four years as pretty much the lone scorer on a weak Providence team. It remains to be seen how well he'll transition from having an evergreen light to stricter coaching and more team-oriented expectations in the pros.
Alec Burks. (6'6", 195 lbs., 19 years old, from Colorado) Burks is a little more intriguing because he's got as much size and slashing ability as any guard but is also supposed to be able to dribble and pass a little bit. On a team like the Knicks, with balls very much in need of handling, Burks might see some reps at point guard. The one big demerit here is that Burks doesn't have a great outside shot.
So, that's it?
Well, not exactly. There are a handful of other guys who might be available but don't fill an obvious need, like Donetas Motiejunas from Lithuania, Jordan Hamilton from Texas, and Tobias Harris from Tennessee. If the front office feels that one of these guys (or, again, somebody who slipped out of the lottery) is talented enough to overcome a lack of fit, they might just go with the best player available.
Beyond that, the Knicks might not be done at seventeen. While trading down seems unlikely, purchasing another later pick (as they did to get Toney Douglas in '09 and Jerome Jordan in '10) is very much on the table. Hoopsworld reports that they have their sights set on Chicago's 30th pick, which could be used on any number of prospects. One can imagine them going small at seventeen and big at 30, or perhaps vice versa. That's still just a rumor, though, and any purchasing of picks likely won't materialize until the night itself.
Capisce?
I still don't have a goddamn clue who the Knicks are going to pick.
Nobody does. They're at sort of an intermediate position, right on the precipice of the lottery, and might not even be picking at that slot when all is said and done. They could very well come away with two or three guys. No matter what, though, there will be at least one new Knick as of tomorrow night. Whether it's somebody on this list, nobody on this list, or, shit, everybody on this list, we'll have another piece in the puzzle, and a whole new wealth of information to obsess over. On a night notorious for its uncertainty, we can be sure that something — big or small — will change about the Knicks, and that's always exciting. Let's draft!