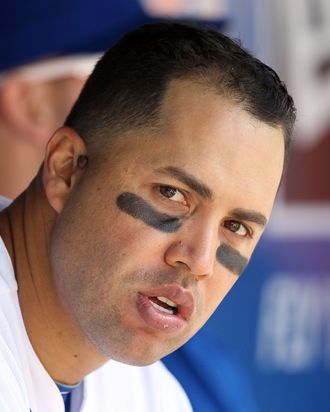 Carlos Beltran.
Photo: Jim McIsaac/Getty Images
Carlos Beltran played what will almost certainly be his last game as a Met at Citi Field yesterday, going 0-for-3 with a walk. When he batted in the bottom of the first, Gary Cohen remarked that he didn't "get any kind of special applause." That changed a bit during his final at-bat in the bottom of the ninth, but the applause wasn't especially overwhelming. Here's ESPN's Kieran Darcy, recounting the scene:
Of those who remained, some stood and gave Beltran a healthy round of applause. Others cheered but remained planted in their seats. And still others just sat and watched, seemingly oblivious to the unfolding circumstances.

For a moment, a chant of "Car-los Bel-tran" or "Thank-you Car-los" seemed to be building. But then, just as quickly, it faded away.
Lots of fans had left by that point: The Mets were down 6–2, and despite the brisk pace of the game — it was over in just two hours and seven minutes — the weather conditions, to borrow a phrase from Jason Fry, would have been more appropriate for a Mercury Mets game. So perhaps some fans had no interest in giving Beltran a big send-off (yesterday's comments section would suggest that's a possibility), or perhaps everyone left was just too dehydrated to applaud with any vigor. But in any case, Beltran seemed to appreciate the ovation he did get. Also from that ESPN article: "Yeah, I heard the fans cheering. It was great."
And, actually, Mets fans could be seeing Beltran again fairly soon: Divison rivals Philadelphia and Atlanta are among the teams most actively scouting Beltran, and the Mets have reportedly ramped up their monitoring of those teams' prospects. (The Phillies wouldn't really trade Domonic Brown for a rental, would they?) The Giants, Tigers, and Red Sox are thought to have interest, as well, though regarding the latter two teams, Beltran — who has a full no-trade clause — reportedly would prefer to stay in the National League. (Beltran told Newsday that the quality of a team's pitching staff and his aversion to being used as a designated hitter will influence his decision.) Also, the Pirates are looking to add an outfield bat at the deadline. And yes, writing that sentence did feel a little strange.
Both the Phillies and Braves, as you might have guessed, return to Citi Field this season. Philadelphia isn't back until September 23, but Atlanta, which has six games left in New York still, is in town starting August 5, just five days after the trade deadline. So yesterday may have been Beltran's Citi Field good-bye. But he could be back — in another uniform — soon enough.