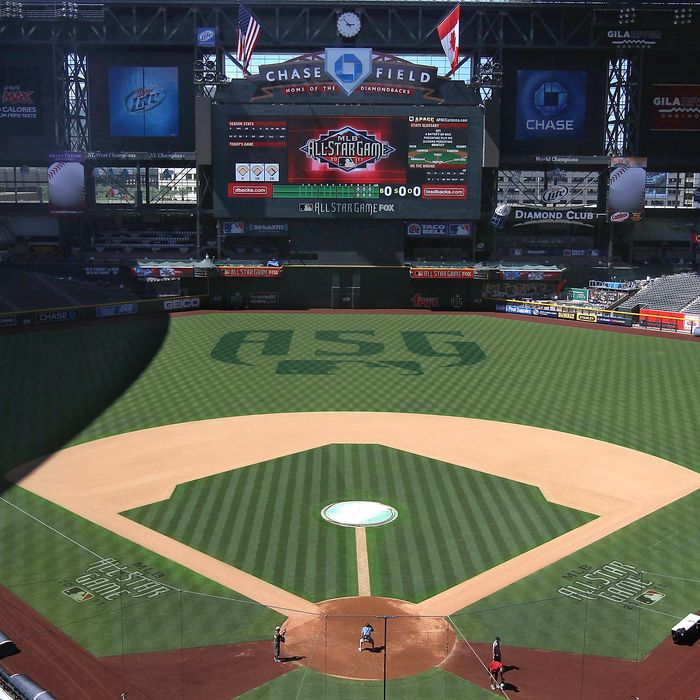 So far, no Latin players have been harassed.
Photo: Christian Petersen/2011 Getty Images
So, let's go over everyone's primary complaints about the All-Star Game.
1. The game doesn't mean anything. It's just an exhibition no one cares about.
2. The game means too much. It shouldn't determine home-field advantage of the World Series.
3. There are too many players on the roster. Managers treat it like a Little League game in which everyone plays an inning.
4. Not enough players show up. Don't they know this is important?!
The very reason the All-Star Game exists, of course, are these complaints.
The All-Star Game doesn't mean anything, and it never has: We only know who has won particular All-Star Games the last few years because the American League has dominated it so much. It is simply a goofy fun exhibition. Sure, interleague play has taken the proverbial bloom off the proverbial rose a bit; it's less of a big deal that Roy Halladay will pitch to Jose Bautista than it used to be. Though, really, that was never a big deal. It's just neat to see everyone running around the field in different uniforms.
The appeal of the All-Star Game for adults is to get people talking about the game during a section of the sports calendar that's typically bereft of activity. (Women's World Cup excitement aside.) Remember, one of the main appeals of baseball is how enjoyable it is to complain about it; it is so perfect that we can't help but drive ourselves crazy trying to make it more perfect. Every time we point out something wrong about the All-Star Game, we do exactly what baseball wants us to do. This is a good thing. No one complains about the MLS All-Star Game. Heck, no one complains about the Pro Bowl. They know it's lame and know it's not worth complaining about.
The All-Star Game is deeply flawed, but it is not lame. Mets fans will stay up to watch Carlos Beltran play tonight — there are three more Pirates than Mets: Complain! — and Twins fans will stay up to watch Michael Cuddyer, the same way we all did as kids, excited to see our Cardinals guy Felix Jose on the same field with Roger Clemens and Cal Ripken and Ken Griffey. The All-Star Game is silly midsummer yawny pleasure that is completely harmless nostalgic piffle. This is a happy thing. This is a rare thing.