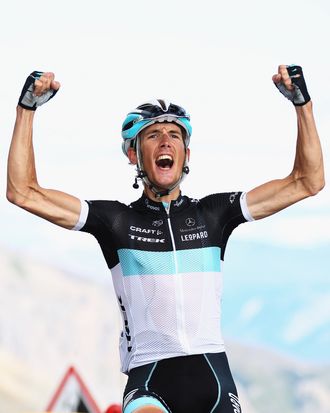 Finally! Finally we got some truly gutsy moves from the GC riders. Yesterday's wimp, Andy Schleck, turned into today's hero and has proven he really, really wants to win. Alberto Contador has virtually lost his chance for a repeat of 2010. Cadel Evans isn't out of it, but has to — HAS TO — attack tomorrow. And Thomas Voeckler, amazing Tommy Voeckler, who is still in the overall lead (if just barely), has proven that if he doesn't ride into Paris in yellow, they should at least give him a jersey for having the biggest heart out of any guy out there.
Today's Stage 18 was by far the hardest climbing day of the Tour, with not one but three HC (beyond categorization) climbs, including a summit finish on the Col du Galibier, which, at 2,645 meters, is the highest summit finish in Tour history. There was also a strong headwind the whole day, which seemed like it might negate any big attacks. Not so. Thankfully.
Before reaching the first climb, the Col Agnel — the highest point of this year's Tour (with the final nine kilometers averaging a ridiculous 10 percent grade) — nineteen riders had broken off the front, the highest-placed being Nicolas Roche, in 21st place at 14:06 behind Voeckler. That break was not to survive, but it notably contained two riders from the Schleck's Leopard-Trek team, and two from Cadel Evans's BMC team, which meant that when the break eventually fell back, those GC leaders would have teammates ahead of them able to help them once they'd caught up, rather than teammates behind them and unable to offer any assistance. Also notable: In the yellow jersey elite chase group of 40 or 45 riders — and remember that this was the first climb of the day — Alberto Contador had not a single teammate with him.
It was on the second climb, the Col d'Izoard (fifteen kilometers at 7.1 percent and filled with hairpin bends), that Andy Schleck made his move. Looking back, the main field should have figured out it was coming when Leopard Trek moved its bruisers, Jens Voigt and Stuart O'Grady, to the front of the pack, clearly with instructions to set a punishing pace that would exhaust as many riders as possible. Over a number of mountain stages, we've seen Contador, Evans, Voeckler, and both Schlecks, for that matter, attack, always with their GC rivals fast on their wheels. But those attacks have been toward the end of a stage. At the end, you know how much juice you have left in your legs; you know it's okay to go full speed because you'll be able to get off your bike in a couple kilometers. Schleck was attacking 60 kilometers from the end. That's crazy talk. It requires enormous energy to distance yourself from the main group, and if you bonk with ten, fifteen kilometers to go, you risk the pack catching you and leaving you in the dust — in other words, losing time when the whole point of your breakaway was to gain it. But if you're as good a rider as Andy Schleck and you succeed in gaining big time on the field, you win the Tour de France. Pretty gutsy stuff.
Powering up the steepest part of the Col d'Izoard, in a horrible stretch of road known as the "Desert of Stones," Schleck built up a minute's lead. He looked awesome. On the ascent, he caught up with his Leopard-Trek teammate Joost Posthuma, who'd dropped back from the breakaway and who then helped Scheck find a good pace up the hill. When Posthuma's legs gave out, Schleck passed him and went over the top on his own, 2:18 ahead of the main group.
On the descent, which Schleck handled absolutely beautifully, Schleck caught up with his second teammate, Maxime Monfort, who gave Schleck a line to follow on the downhill, and kept the pace high as Schleck drafted off him through a headwind leading up to the ascent of the Col Galibier. They caught all the remaining members of the original breakaway, and together with them built a lead of three and a half minutes on the yellow jersey group containing Voeckler, Contador, Evans, and Frank Schleck by the time they hit the base of the final climb. Three and a half minutes! What?! Yeah, exactly.
Why weren't those guys chasing harder? For one, quite a few of the GC contenders were isolated, and there seemed to be some movement to slow the pace down enough for their teammates to catch up so they'd have some assistance going up that 23-kilometer climb to the top of the Col du Galibier. But mostly no one chased because no one wanted to. It's weird, right? All of these guys were in a position to win the Tour, which means that they all were also in a position to lose it, and the fear of losing by going out hard and chasing down Schleck — because chasing is freaking exhausting — seemed to outweigh the desire to attempt to be great. So when Schleck first jumped off, the GC just looked around at each other, trying to figure out which one of them would take the lead. Total fucking mistake. Contador finally took charge up the Col d'Izoard, but he clearly didn't want to do it again in the flats leading to the Galibier. That's when Evans and his BMC team took up the reins; someone had to. And, of course, Frank Schleck, the third-placed rider, was no help. He had no need to chase his own teammate, and he was saving his energy in case the group caught up with his brother; then Frank could launch a counterattack and break ahead after everyone else had used up their energy chasing down Andy. Surely Evans, and particularly Contador, are sitting in their trailers now, replaying their myriad strategic missteps of the day. But their biggest mistake had occurred the second Schleck broke away. Why Contador or Evans didn't immediately jump on Schleck's wheel when they saw him go, we'll never know. To our mind, they're wimps who just didn't want it enough.
Heading up to the Galibier, Schleck lost teammate Monfort, and though he had last remaining breakaway members Nicolas Roche and Maxim Iglinsky with him, he was basically alone, pulling them up the hill. Fourteen kilometers from the end, Evans and Contador finally kicked it into gear. There was some nonsense where Contador, in the middle of leading the chase with Evans, disappeared and fell off the back for a minute, confusing the chase and allowing Schleck's lead to built to four minutes. Up front, ten kilometers from the end, Roche lost contact with the lead group. And then there were two.
In the steepest part of the climb near the end, Schleck finally shed Iglinsky, climbing alone amid a huge, roaring crowd. Also supremely cool, the great Eddy Merckx was watching from the car directly following him, head poking out of the sunroof. Back among the elites, Evans finally took charge, setting a pace that sent fifth-placed Samuel Sanchez reeling off the back. Three kilometers to go, only Evans, Frank Schleck, Voeckler, Ivan Basso, Damiano Cunego, and Voeckler's teammate Pierre Rolland remained in the chase … until 2.2 kilometers to go, with the gap to Schleck still at three minutes, when something happened and Contador faded off the back of the group. That will be the moment, sure to be replayed again and again, where Contador lost this Tour de France. As he reached the final two kilometers, Schleck was clearly spent, riding like a man who would surely fall off his bike the second he came to a stop. His cadence slowed considerably, but nonetheless, he won the stage, pumping his fist in triumph, and then, as predicted, immediately falling off his bike. Behind him, Evans pursued hard, with Voeckler fast on his wheel. The last of the elites, minus Contador, who was by that point far back on the hill, raced together to the end, with Frank Schleck coming in second, followed by Evans, Basso, and Voeckler. Contador limped into the line a full 1:20 after Voeckler and a full 3:50 behind Schleck.
Brave, amazing Tommy Voeckler now still, improbably, leads the TDF by fifteen seconds — and now has worn the yellow jersey for nine days this Tour, for an impressive nineteen days total in his career. Andy Schleck vaulted from fourth place to second, over his brother Frank, who is 1:08 back, and a mere four seconds ahead of Cadel Evans. Given that the next guys in the standings, Damiano Cunego and Ivan Basso, are 3:46 back, and Contador is a staggering 4:44 off the pace in seventh place, it's now a four-man race. Oh, do we feel sorry for the guy who's going to finish fourth, whoever that poor soul is.
Schleck, meanwhile, seems to have been motivated by the grand frustration of last year's second-place finish. He explained his move thusly: "I didn't want to finish fourth in Paris, and I said to myself, 'I'm going to risk everything; it'll work or it'll fail.' That's the way I am. I'm not afraid of losing. And if my legs were hurting out in front I knew the others would be hurting to catch me." But as for the standings, the Tour isn't his just yet. "I've won the stage," he said. "I'm second overall; perhaps tomorrow it'll be the yellow jersey. I wanted to take the jersey but Thomas [Voeckler] surprised everyone. It's great for cycling."
Schleck really shouldn't be too confident. Despite his boneheaded move not to respond to Schleck's original attack, Evans looked terrific. And he has a background in mountain biking, which means that tomorrow's relatively short (109.5 kilometers, or 68 miles) Stage 19, with another climb up the more difficult side of the Col du Galibier and a finish atop the famous HC summit of L'Alpe d'Huez, is in his comfort zone. A mountain-bike rider is used to tough terrain taken at a terrifically high pace, and tomorrow will be very fast, given that there's so little distance on which to make a move. Plus, Evans is an excellent time-trial rider, which is what we're heading into on Saturday's Stage 20, one day before the ride into Paris. Schleck may be within striking distance of the top of the podium, but the win still isn't his.